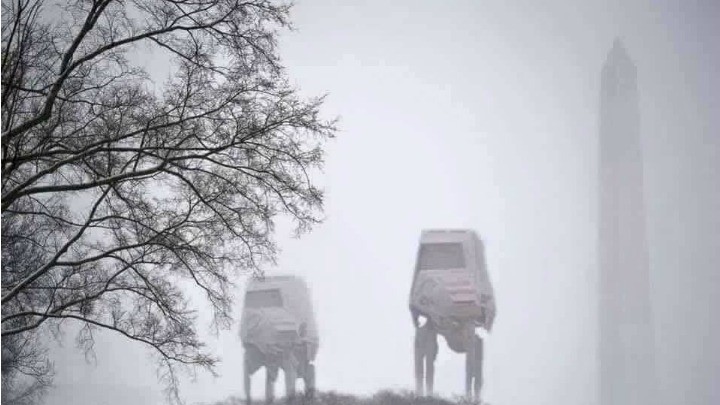 Residents of America's east coast are now under complete lockdown as what could be the nation's worst-ever recorded blizzard intensifies.
Some 85 million people are affected and all travel is now banned with New York already trying to deal with 30 inches of snow, and up to four feet in Maryland and West Virginia, CNN reports.
"This is bad, and it's getting worse rapidly," New York City Mayor Bill de Blasio said.
Worryingly, there are 50,000 homes in New Jersey without power and more than 50 people were forced to leave their homes due to flooding as strong winds pushed water from the ocean into the streets in Atlantic City.
America's capital Washington is also under a blanket of 13 inches of snow with more to come.
So far there have been nine fatalities, six in North Carolina, two in Virginia and one in Kentucky, and 11 states have been declared states of emergency: Georgia, Tennessee, Pennsylvania, Maryland, Kentucky, North Carolina, New Jersey, New York, Delaware, Virginia and West Virginia. Washington has declared a "snow emergency."
Prior to the lockdown, social media users have shared some unbelievable images. At least one Washington resident was happy to see the snow:
Tian Tian woke up this morning to a lot of snow, and he was pretty excited about it. 🐼🌨 #blizzard2016 pic.twitter.com/GrhI9t1u7j

— National Zoo (@NationalZoo) January 23, 2016
Keepers gave our elephants the choice to romp in the snow for a little bit today, and Kamala took it! #Blizzard2016 pic.twitter.com/WlPh8Mrwuh

— National Zoo (@NationalZoo) January 23, 2016
Here are some of the best images, which have been shared under the hashtags #snowmageddon and #snowzilla.
Hello Sunny #NYC #Blizzard2016 pic.twitter.com/B4gRAcBIqU

— Hiroko Tabuchi (@HirokoTabuchi) January 23, 2016
About 20 people came out to Center Square to help this trapped motorist #blizzard2016 @theeveningsun #kindness pic.twitter.com/ilmBZhUPAP

— Shane Dunlap (@shanedunlap) January 23, 2016
When salt trucks get stuck and ppl try pushing them, you KNOW it's a bad storm. #snowmaggedon2016 pic.twitter.com/gzSWgJrYeh

— Karl Ferron (@lightforall) January 23, 2016
I'm sure I parked it here last night. #Jonas #Snowzilla #snowmaggedon2016 pic.twitter.com/V1oY8pS74k

— Stephen Spencer (@sspencer_63) January 23, 2016
Massive #blizzard2016 seen from space, including this shot of #thundersnow #Snowzilla https://t.co/LxFHaQojk0 pic.twitter.com/prr0j6KXy2

— CNN (@CNN) January 23, 2016
Have you ever been caught in a blizzard? Was it frightening or did you have a hot drink and safe refuge?
Comments