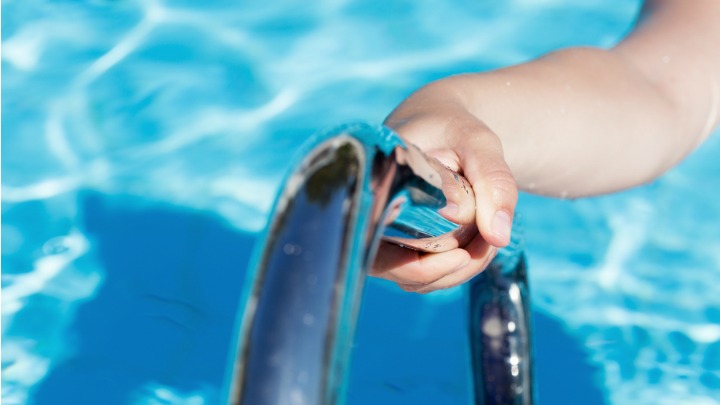 Who would have thought a poster promoting swimming pool safety would draw the ire of social media, but that's exactly what has happened to the Red Cross in the United States with its latest campaign poster.
Released on its website and displayed at a facility in Colorado, the Red Cross 'Be Cool, Follow The Rules' swimming pool safety poster has been called "super racist" by one Twitter user, with further calls for it to be replaced.
Hey, @RedCross, send a new pool poster to @SalidaRec bc the current one they have w your name on it is super racist pic.twitter.com/TY8MmFB3Qk

— John Sawyer (@JSawyer330) June 21, 2016
As you can see, the poster depicts a host of children enjoying the pool, with some of the kids acting in dangerous ways deemed to be 'against the rules', thereby being labelled 'not cool'.
But that's not what makes this poster racist. No, the controversy surrounds the depiction in the poster that almost every child behaving in a 'not cool' way is black, while those who are 'cool' are not.
While some don't seem to take issue with the representation, others have expressed concern and frustration.
Red Cross apologizes for 'super racist' pool safety poster, as we all drown in an INSANE PC world https://t.co/uLsr1hiBlb

— Secret News Bot (@SecretNewsBot3) June 27, 2016
WTF #RedCross ? What were you thinking? Unbelievable Racist Pool Safety Poster! https://t.co/XNHEMX81JO via @nbcnews

— cheryl (@ehcsztin) June 26, 2016
Umm, did the @RedCross really release a pool safety poster that only shows POC "breaking" the rules? #NotCool, guys https://t.co/YmtNg6eDgU

— Maria Wich-Vila (@mariawv) June 21, 2016
To its credit, the American Red Cross responded via Twitter to those who raised the issue, and noted it would be withdrawing the offending material for its site making way for a new range of posters.
"We deeply apologise for any misunderstanding, as it was absolutely not our intent to offend anyone," the organisation said in a statement.
Do you think the poster is racist? Or is this a case of the world becoming too focussed on PC?
Comments