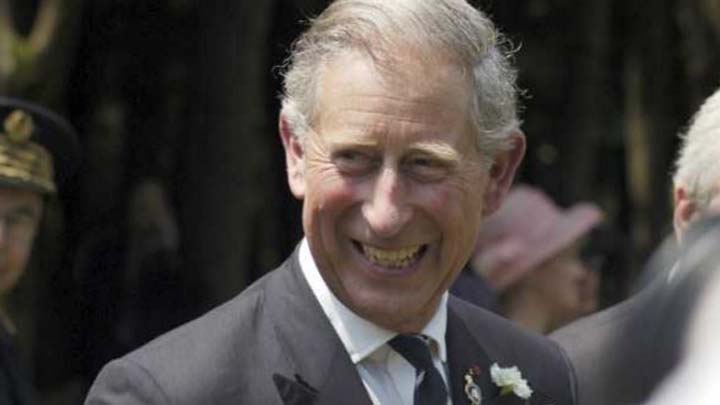 Despite Prince Charles being very visible yesterday while he attended many worthy causes, it is one of his attendants who is receiving all the attention.
Janine Kirk, who manages the Prince's charities here in Australia, was snapped with what appears to be her hand on the Duke of Cornwall's bottom as they were moving through a crowd of emergency services workers.
The media has gone to town on this shot, calling it the "blunder down under" and creating many puns about "Arse-tralia" and "His Royal Hindness".
However Ms Kirk has curtly shut down any suggestions what she did was improper: "It's not on his bum. It was a room of about 130 people. He was being engaged as he always is and so he was being moved through the crowd."
However, some people say it is inappropriate for a member of the public to touch a royal at all. In 1992, Paul Keating put his hand on small of the Queen's back and was dubbed "the Lizard of Oz" by the British press. Tony Abbott similarly put his arm across the Duchess of Cambridge.
News Limited reports that Ms Kirk was not amused with being compared to Mr Keating. "I don't like the way this is going, it's rather silly," she said.
You have to feel for Janine Kirk, who no doubt has a busy job and was unlikely to have been making a "move" on the Duchy. Considering Charles and Camilla's day included a visit to food-waste charity Oz Harvest, a workshop on skills for psychological recovery meeting and a talk on sustainability, it's a shame there's so much focus on this one incident.
But the question is, did she do the wrong thing? See the debate on this morning's Sunrise:
The 'Cheek' of it!Charity Boss Janine Kirk is in the headlines this morning for appearing to place her hand on Prince Charles' backside.. It's been dubbed the 'blunder from down under'.. Do you think she meant to do this or was it just an innocent misplaced hand? Ms Kirk insists she did not touch his bum! #sun7

Posted by Sunrise on Thursday, November 12, 2015
What do you think? Should Ms Kirk have kept her hands to herself, or was she simply doing her job trying to move the Prince through the crowd? 
Comments