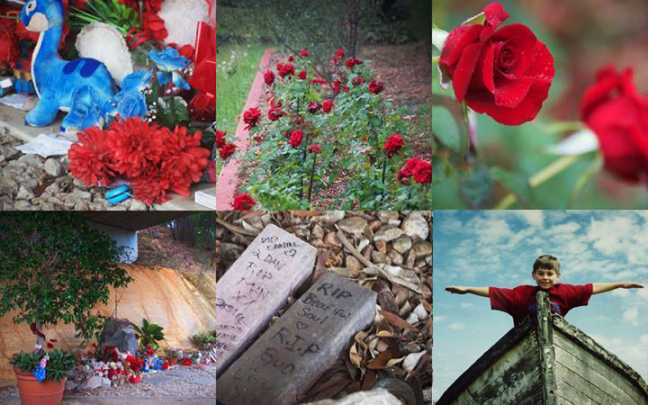 Bruce and Denise's post flashed up on my wall this morning, sharing their memory of Daniel their son who disappeared 12 years ago today. Anyone, with or without children feels their pain having watched them suffer in the public eye for such a long long time with so much dignity. But we don't often make the time to think about where he would be now or how much of a weight this family has carried.
On the same day, a young girl has been reported missing from Daniel's suburb of Palmwoods – she hasn't been seen since 11.30am Sunday. No further information has been released. We can only hope and pray.
Daniel would be turning 26 years old this month, a hard thing to contemplate for his parents and brothers who have held him close to their hearts in his absence, only getting to lay him to rest 10 years after his disappearance when his body was found. They are a high profile family with no desire for the limelight other than to do good with their sadness. His twin Bradley married his sweetheart at the age of 24 last year, and they hope to bring children into the world sooner rather than later.
"We would like children … pretty soon, hopefully. It's something we both want," he said to The Courier Mail after his wedding.
Daniel's killer received a life sentence in 2014 for his callous murder and the story of his disappearance makes every parent's sould chill as it is something we all know could happen to anyone.
In 2006 Bradley openly discussed the day's events. "Daniel, myself and our older brother Dean were home together after mum and dad had gone to Brisbane for a work Christmas party," Bradley said.
"They wanted us to go, but we stayed back to do some passionfruit picking on a neighbouring farm.
"Daniel was really happy and so excited about heading off to the Sunshine Plaza to buy mum and dad something special for Christmas."
Bradley said he pleaded with Daniel to wait until the next day to go shopping but he refused and went alone.
The rest of the story is history, most powerfully unveiled in the victim impact statement made at the trial of Brett Peter Cowan by his mum, Denise MOrcombe.
"At 4:00pm Sunday, December 7, 2003, while getting Daniel's clothes off the line, I knew something was wrong. Daniel wasn't due to return to the bus stop until 5:30pm but for some unknown reason I was anxious.
Hence, I went to see if he was there at 4:30pm. I don't know what it was, but I knew that when Bruce returned home soon after 5:30pm from the bus stop without him, I knew that I would not see him again….
I have accepted I will never see Daniel again, and I have no control of what your sentence is. But if there is a God, and he knows the love a mother can have for her son, you will pay for your actions and you will pay dearly," said Denise in her statement that was read to the room by her lawyer.
His brother Bradley felt the same. "Daniel cannot join me for a beer, nor be my best man at my wedding," his statement said.
And Bruce Morcombe's statement showed the gaping hole we all know they were feeling despite their enormously brave face.
"Over the years, we made a face for media with determined self-control on the outside. On many occasions, particularly in the first few months, I was physically ill each morning at the unbearable images of what may have happened to my son Daniel.
Even today I am haunted by thoughts of how long he was actually held captive and what other unspeakable things you did in those sheds at the end of Kings Road at Beerwah".
Today we wish Daniel and the Morcombes the peace they deserve and the joy of knowing grandchildren and happy family moments again. This they deserve dearly.
Comments