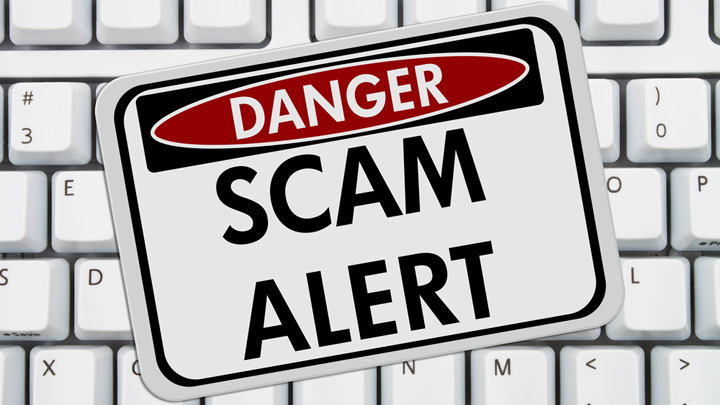 We feel like a broken record but to be completely honest, the scam warnings are not decreasing, they are only increasing with the busy Christmas period.
Just a fortnight ago, the Fraud and Cyber Crime Group issued a warning to both businesses and individuals to be on high alert.
"In the last month we have noticed a dramatic increase in not only the number of scams circulating, but the sophisticated nature of these scams. We are concerned and need to ensure the community is taking every possible step to prevent this from happening to them.
"The theft of personal and business data will continue. Whether these thefts be aimed at the individual or at larger organisations as part of strategic ransomware attacks, these crimes are highly profitable for criminals and will without question, continue to rise," Acting Detective Superintendent Terry Lawrence of the Fraud and Cyber Crime Group said.
So we've saved you the worry by compiling together the top scams that are doing the rounds this Christmas.
1. Counterfeit, fake or misleading toys
News Limited reports there are a myriad of dodgy shops full of cheap, untested and easily breakable toys that cash in on the popularity of movies and TV shows such as Star Wars, Lego, Avengers, Minecraft, Superman, Pokemon, Nintendo, and Disney products, including Frozen.
One that we've seen frequently in market stalls and in discount shops is the "brand" LEBQ, which is styled to look just like LEGO branding and includes the popular avengers characters.
If you think you've been duped or something isn't as described, take it back to the shop as a first port of call. You can also report it to the office of Fair Trading.
Price should give you a good indication of whether a toy is a fake and also the retailer from which you buy it. Look closely at the packaging and, if possible, feel the quality of the actual toy itself to see if it is a cheap copy.
2. Holiday/cash winner
A number of Australians have been receiving calls from someone saying they have won a holiday or cash. While it can feel very surprising and exciting, the Australian Communications and Media Authority (ACMA) are warning that if it sounds too good to be true, it probably is.
If you receive a phone call from people purporting to be from reputable companies such as Qantas or Virgin, these are people involved in this scam.
Like any unsolicited call, never give financial or personal information to the person, and hang up if you feel it is suspicious. Scammers are very cunning and can try to make you feel at ease even if you say you think it could be a scam.
3. ATO scam
This new scam – the latest of many – comes as a strong reminder to all Australians: always be wary of the power of a manipulative phone call.
Thousands of people have recently fallen victim to a scammer claiming to be from the Australian Taxation Office and that you have outstanding debts – a huge shock that immediately puts the victim on the defensive.
The scammer will ask victims to go to a post office to pay off the debt via wire transfer – a payment method where it's almost impossible to recover lost funds.
If in doubt about an Australian Tax Office call, you can contact them directly on 13 28 61.
4. ATM skimmers
Police are warning Australians to be careful when using ATMs after another wave of skimming has taken $1 million from bank users.
Some of the ringleaders and money launderers have been caught but there's still concerns the ATM skimming devices are on ATMs and are capturing sensitive data to withdraw large sums of money.
The scam involves criminals fitting card reading devices to older ATMs and installing hidden cameras to capture customer's keypad entries, reports Fairfax.
5 ways to stay safe or detect a suspicious ATM:
Before using the ATM, look for any noticeable signs of a skimmer – they can look like a part of the machine but are an accessory to it, either over the card slot or keypad.
Look for a camera (not the usual bank camera) that may be blinking. It could be hidden to the left or right of the machine.
Use secure ATMs inside of a bank's entrance – they're less likely to have been tampered with
Always cover your PIN with your hand or bag.
Call the customer service number on the ATM immediately if a machine appears suspicious.
5. Stolen identity
Recent attacks have included not only malware and calling scams, but attempts to steal identity (through phishing, hacking, remote access scams and document theft).
Identity theft continues to target people through phishing (links in emails), hacking (gaining access through security scams), and remote access scams (you allow a "helpdesk" to take control of your computer). And even still, scammers stealing information through your credit cards and details from your letterbox, continue to be a threat.
Here's how you can protect yourself:
• Do not open attachments or click links in emails or social media messages that are unsolicited or unexpected. Delete them.
• Be wary of any free downloads or website access. They may install harmful software without your knowledge
• Keep your security up to date on your electronic devices ie download anti-virus software from a trusted source.
• Never send money or give credit card, passwords, online account details or documents to anyone you do not know.
• Be careful of the information on your social media profile. A birthday, middle name and address can be enough for a scammer to build a profile on you and steal your identity.
Tell us, have you ever been the victim of a scam?
Comments