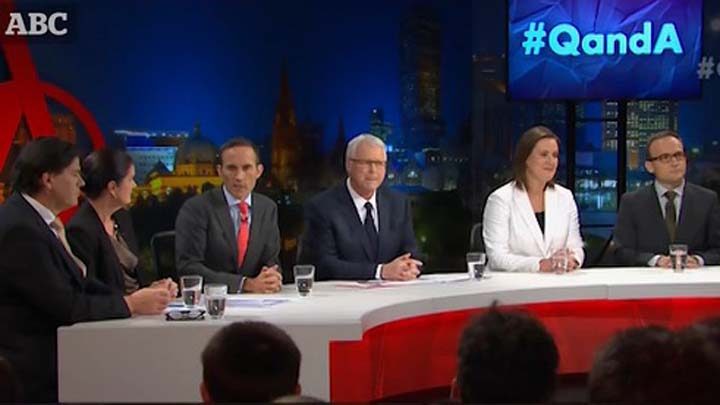 It's been 6 years since the Greens and Labor joined forces and now the notoriously (and some say former) far left party want to do it all over again.
Despite growing voting for their party over the past few years in local, state and federal elections, it seems the Greens want something more.
Speaking on Q&A last night, MP Adam Bandt said the Greens would be open to forming a coalition with the Labor party to get over the line at the July 2 federal election.
The Greens MP, who was formerly the party's deputy leader, said the 2010 partnership of the left parties was "one of the most productive periods" in Australian politics.
"You look at Germany, they're on the way to generating 30 per cent of electricity from renewables, that's because back in the '90s they had Labor and the Greens co-operating together. That's what I would like to see happen," Mr Bandt said.
"And if we do end up in a situation where, like 2010, no one wins and everyone has to negotiate, then I would like to see Greens working with Labor."
"Some people in Labor have said they'll govern alone or not at all, and that suggests to me that they're saying 'look, we'd rather have a second election than allow the parliament we've elected to work together'," Mr Bandt said.
"I think you'd want an agreement that delivers a stable and effective and progressive parliament. Everyone would have to give a bit, because it would have to be reasonable, [a coalition] means no-one's won by definition.
"I know hotheads in Labor would say 'it's my way or the highway', but I think wiser heads will prevail."
Liberal Minister Kelly O'Dwyer and shadow assistant treasurer Andrew Leigh, who were also on the panel last night felt it was not ideal.
"I think everybody's seen what a Labor-Greens coalition actually looks like," Ms O'Dwyer, said.
"We actually had that in 2010. We actually had the Labor Party form government with the Greens. We saw ever-increasing spending, we saw huge deficits year after year, and lots and lots of borrowing. Of course this was something which just had no end."
Mr Leigh said he didn't think a Labor-Greens coalition was a "good road to go down [because] the Greens have made a number of decisions over the years that have been deeply damaging.
"They voted down the emissions trading scheme in 2009. They voted against the Murray-Darling Basin Plan.
"A range of the decisions that the Greens have made lead me to question whether they're a party that's committed to governing, or whether they're principally a party of protest".
It's definitely an interesting debate. What do you think? Would you support a Greens-Labor coalition? Or would you prefer to vote for one or the other or none at all?
Comments