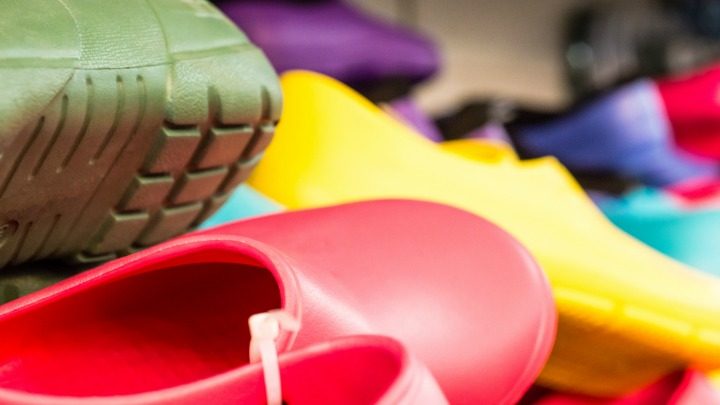 When first launched as a casual piece of footwear, Crocs were ridiculed for their unattractive appearance but now the oddly shaped rubber shoe is a hit. From Dame Helen Mirren to Jack Nicholson, Aerosmith lead singer Steve Tyler and Kate Middleton, more than 300 million pairs have made their way onto feet in 90 countries.
Helen Mirren played "The Queen," but in real life, the actress rides the subway & washes her Crocs in the dishwasher: http://t.co/Y8vKTtezOj

— TheSceneSD (@TheSceneSD) March 31, 2015
Kate Middleton, I honestly lost some respect for you after seeing you in crocs. pic.twitter.com/SHbHm9Qc9l

— March Madsness (@madisunn21) December 29, 2014
Yes, they are an affordable purchase for keeping up to date in the 'trend' stakes, but just because celebrities get around in them doesn't make them good for you and several podiatrists have come out to highlight the danger a pair of Crocs can have on the health of your feet.
"Unfortunately Crocs are not suitable for all-day use," Chicago-based podiatrist Dr Megan Leahy told Huffington Post. 
While Leahy acknowledged the offering of "nice arch support" but she says the reason you should refrain from wearing Crocs for long periods of time is because "these shoes do not adequately secure the heel".
When your heel is unstable you are placing your toes under unnecessary strain as they try to grip more, and this could lead to tendinitis, toe deformities, toenail problems, corns and calluses.
Another podiatrist, Dr Alex Kor, says Crocs are problematic because there is limited support between the heel and the toe.
"On a daily basis I see patients who come into my office complaining of arch or heel pain and they are wearing Crocs," Kor says.
Is there any occasion when wearing rubber clogs is acceptable? Yes, is the short answer.
If you're going to take your Crocs out it's best to do so for those trips to the beach, the pool and even while you're gardening; but they should be avoided for long walks.
Do you own and wear Crocs? Have you found your feet ache when wearing them for long periods of time?
Comments