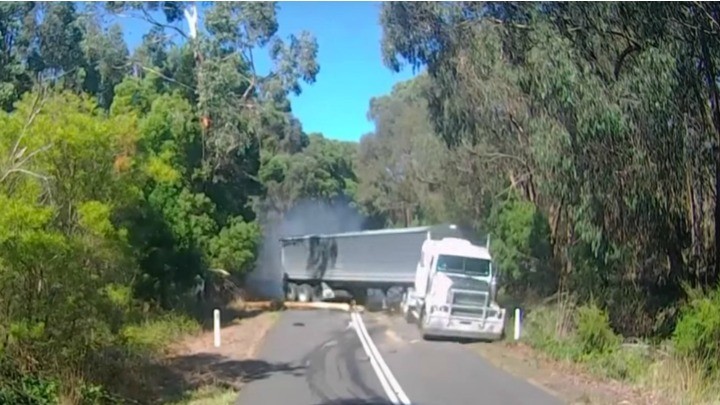 Terrifying footage of a semi-trailer which loses control when it hits a fallen tree branch is going viral this morning.
The video was released on Tuesday, and shows the view from a truck as it drives along a narrow road near Carlisle River, south-west Victoria.
The dash cam footage shows a truck driving along a road surrounded by trees, the driver pulls over ahead of a fallen tree branch to ask a woman parked on the other side of the road if she is okay.
"Are you alright?" the driver of the first truck is heard asking in the video. The woman replies,"I came around the corner and just ran straight over it".
As the drivers are talking a large semi-trailer can be seen coming quickly around the corner and crashing through the branch.
The semi trailer narrowly misses the other truck with the dash camera but hurtles towards the woman in the parked car.
"Jesus," the man in the truck is heard yelling and the woman screams as she sees the truck heading towards her.
Luckily, no one was injured in this terrifying incident but her car was significantly damaged.
Have you had any near misses or run ins with trucks?
Warning video contains some strong language. 
Comments