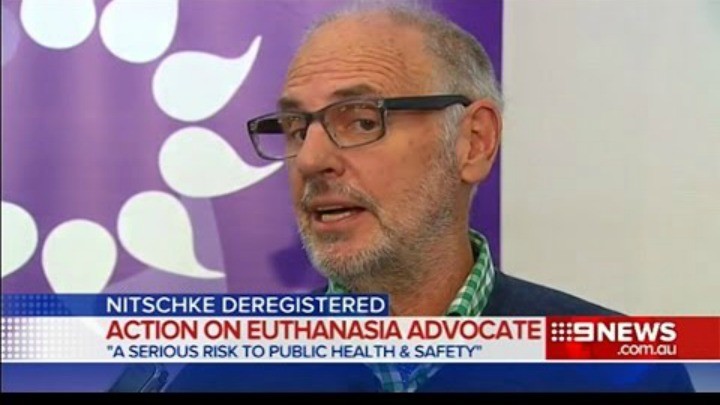 Last month, euthanasia advocate Philip Nitschke was allowed to continue practising medicine, but under strict conditions. Last night, he showed the Medicatl Board of Australia what he thought of those conditions.
The controversial doctor gathered the press together in Darwin and burnt his medical certificate.
He said, "Today, and with considerable sadness, I announce the end of [my] medical career."
"The conditions the board has sought to impose on me … amount to a heavy handed and clumsy attempt to restrict the free flow of information on end-of-life choice."
Cathartic burning of my medical registration for the sake of #euthanasia. For reasons see: https://t.co/dw2Izi8WTQ pic.twitter.com/ls3nnjg2C6

— Philip Nitschke (@philipnitschke) November 27, 2015
Euthanasia campaigner Philip Nitschke sets medical licence on fire https://t.co/T13EIvqGz4 pic.twitter.com/XLE4fQkLV3

— PerthNow (@perthnow) November 27, 2015
Mr Nitschke was told he could continue practising medicine under the condition he no longer publicly endorsed or privately encouraged the suicide of any patients or anyone else he came into contact with, and only in the Northern Territory.
His licence was suspended in 2014 after he admitted supporting a 45-year-old man's decision to take his own life, the ABC reports.
Before his stunt last night, Mr Nitschke asked more than 1000 members of his advocacy group Exit International for their support in killing his medical career.
"I was surprised that it was so overwhelming, the support for effectively chucking in [my] medical registration," he said.
"People out there, our membership, were saying 'we want the information'."
Mr Nitschke has been working in Switzerland on the 'Destiny' machine, similar to the device featured in the movie Last Cab to Darwin. 
For a period of 11 months across 1995-6, the NT had the Rights of the Terminally Ill (ROTI) Act, which introduced voluntary euthanasia into Australia. Dr Nitschke helped four people end their lives while it was legal to do so.
The act was overturned in 1997 by strident euthanasia opponent Kevin Andrews.
What do you think of Philip Nitschke's actions? Do you support assisted suicide here in Australia? 
Comments