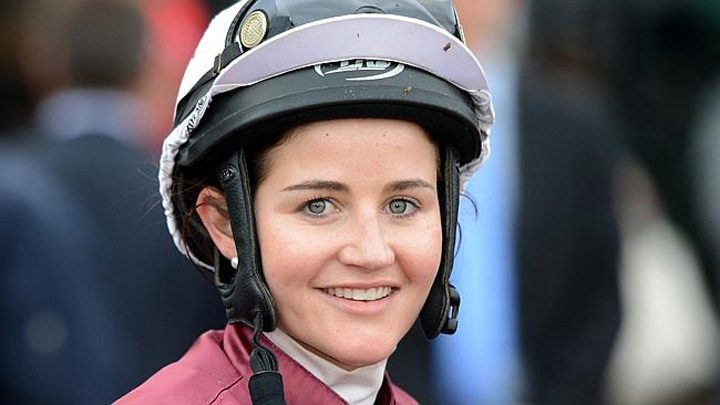 When Michelle Payne fell in a race in May, Horse Dutch Courage stepped on her, injuring her pancreas.
Her family, friends and fans were worried that the fall was going to be the end of her riding career.
But over the course of a few months. Michelle has made a rapid recovery following delicate surgery to restitch her pancreas that split on impact from the Mildura fall.
And now, the Melbourne Cup winning jockey Michelle Payne has returned to riding!
Her father, Paddy Payne, said she got back in the saddle at Ballarat on Wednesday, reports ABC News.
"She's going very well. She actually rode 10 horses yesterday morning," he said.
"She's in fine form. She's doing a lot of exercise and she's going really well."
Michelle said she had done very well to recover so quickly and although she had no races booked yet, he hoped she would be back racing in about four weeks time.
On Wednesday, Michelle rode trackwork for Darren Weir, the man she combined with to win last year's Melbourne Cup as well as her older brother Andrew and fellow Ballarat trainer Matt Cumani, reports SMH.
"I think she's been back just over a week and she's looking really strong and enjoying it," said Andrew Payne.
He also said his sister would lift her workrate when she returned from a trip to Darwin in a week's time.
"She felt a little stiff at first and that's pretty understandable. She's had a pretty torrid time, but she's now enjoying it and looking really fit," Andrew said.
After the Mildura fall, Michelle complained of abdominal pain and was then flown to hospital in Melbourne for surgery. It was then that doctors discovered that her pancreas had split.
She's also had two other horror falls, one in 2004 which left her with a fractured skull and bleeding on the brain and another one in 2012 when she broke four vertebrae and several ribs in a race fall at Donald, Victoria.
Michelle, who is the youngest of ten siblings from a famous racing family, has been missing major rides in Europe, including Royal Ascot, during a planned two-month break from racing but she has shown her fans that her spirit is far from being broken as she now finds her herself back on the saddle.
Are you inspired by her strength and determination?
Comments