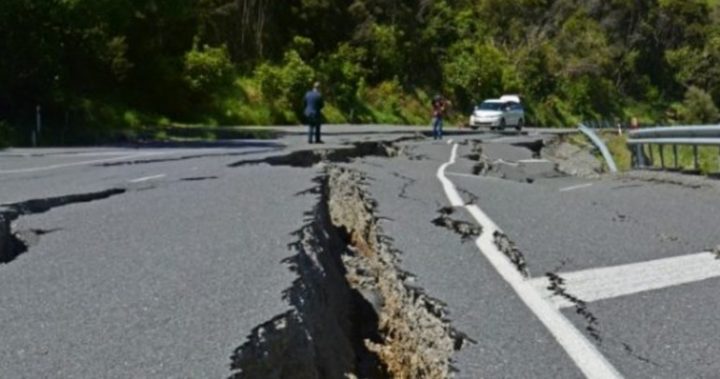 New Zealand's South Island has been hit with another severe earthquake this afternoon. It is the second time this month that South Island has been devastated by the earthquake. The 5.5 magnitude earthquake hit near Kaikoura, with GNS Science reporting it as severe, about 17 kilometres deep. Kaikoura is the same place that was rocked by the 7.8 magnitude quake in November. The earthquake hit 30 kilometres east of Seddon, a town in the South Island's Marlborough wine region.
Twitter user Sarah said, "Holy moly that was a big shake! People were under desks at work. Guess it's a reminder that it's not over…" while Twitter user Nature Hiker called it "quite a shake."
Holy moly that was a big shake! People were under desks at work. Guess it's a reminder that it's not over… #eqnz

— Sarah (@redsezz) December 29, 2016
The earth just moved for me! We've just had a mag 5.5 earthquake in Wellington: quite a shake.

— Nature Hiker (@NZNaturist64) December 29, 2016
That was a bit of a sharp shake – hope everyone is OK. A timely reminder to Drop, Cover and Hold. https://t.co/Oz0WMVw2dH https://t.co/LBYbQsYRhk

— MCDEM (@NZcivildefence) December 29, 2016
According to New Zealand Herald, aftershocks have already been felt, and 7000 people are believed to have felt the earthquake.
Seddon Volunter Fire Brigade chief fire officer Keiron Hebberd said it was the first large earthquake he had felt in a while.
"You actually felt it, it wasn't just a quick jolt," he said to Stuff NZ.
"I think everyone felt it here, I haven't seen any damage yet but it's always hard to tell."
There had been no call-outs immediately following the earthquake, Hebberd said.
The aftershocks since the major earthquake about 3.30pm have been magnitudes of 3.8 and 3.3. It was felt in Wellington, in the North Island, and even Christchurch.
#SISMO M 5.5, Cook Strait, New Zealand https://t.co/yi3eTbIqMg #earthquake #quake #jishin pic.twitter.com/W0ye9oLwbn

— Wikisismos (@wikisismos) December 29, 2016
A resident said the quake shook the area violently for up to 15 seconds.
GNS has warned people inside buildings should take no more than a few steps and they should stay inside until the shaking stops. Those outdoors should stay away from buildings, trees, streetlights and power lines.
There have been no reported deaths.
This is the fourth earthquake to strike New Zealand in the same year and comes just one month after a horrific 7.8 magnitude earthquake hit the South Island near Hamner Springs, north of Christchurch where two people died. Tsunami warnings were also put in place clean-up is estimated to cost hundreds and millions of dollars.
To our Kiwi friends and those currently in New Zealand, stay safe. Our thoughts and prayers are with you all.
Comments