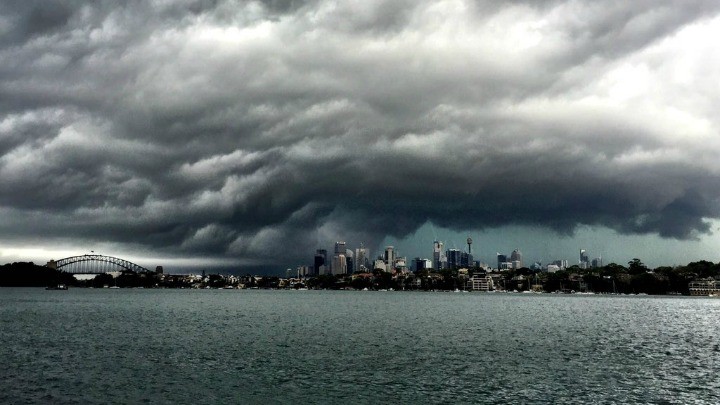 Sydney and surrounds have copped another terrifying storm, with the radar showing there could be more on the way.
Alan Sharp, a meteorologist from the Bureau of Meteorology, told Fairfax media, "There were gusts of 213km/h recorded at Cronulla and it was obvious from our radar that there was a tornado in that area."
  The storm brought golf-ball sized hail, swirling winds, and torrential rain, and emergency services were responding to reports of building collapses.  
Some HUMONGOUS hail out there #SydneyStorm (pic via @rebeccamurphy) pic.twitter.com/Yzt34TFXRt — Simon Crerar (@simoncrerar) December 16, 2015
There are warnings of more storms to come in the next few hours.
Very dangerous storm warning for the northern beaches #sydneystorm Story: https://t.co/CCEjh0UBAc pic.twitter.com/dZjBi2XiwY

— The Manly Daily (@ManlyDaily) December 16, 2015
  Multiple flights into Sydney and surrounds were delayed or diverted and motorists abandoned their cars on approach to the airport.  
.@guardianaus reader Claire Milet took this, of people getting out of cars to walk to #SydneyAirport in #sydneystorm pic.twitter.com/7GbkszdJcp — (Joyeux No)Elle Hunt (@mlle_elle) December 16, 2015
more giant pellets of frozen rain as second hail storm hits Cronulla @storyful @smh #sydneystorm @breakingnews pic.twitter.com/OvHomgzgaz — Carla Grossetti (@carlagrossetti) December 16, 2015
  Mr Sharp said the conditions were dangerous and extremely unusual for Sydney.
What's the weather like where you are? Share your pictures!
Comments