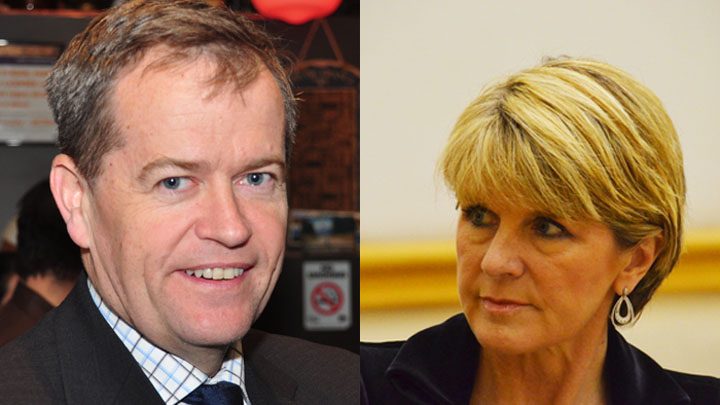 You can tell politicians either hate this part of their job or love it, but we'll let you decide what Julie Bishop was thinking today as she did a street walk of Campbelltown, southwest of Sydney.
The Foreign Minister and ring-in for Prime Minister Malcolm Turnbull was accosted by locals, including a man with a rat's tail. You genuinely need to give it to Ms Bishop for her poise as she came face-to-face with locals.
Campbelltown local Nathan Stanley told SMH he told Ms Bishop about the area. "Just about how bad it is. I said 'people get shot around here, this is not one of them areas you play games in'"
The Foreign Minister did not blink as he recounted stories of violent acts in the area. "My nan votes Liberal", Mr Stanley promised.
The reception of Ms Bishop was arguably more warm than what you would expect if Malcolm Turnbull orBill Shorten gave it a crack. One woman even said she was so excited to have met Julie Bishop.
"Oh my god, I can't believe I just met Julie Bishop!" said 22-year-old house painter Kylie Cole. "I have never met anyone that famous," she told Fairfax Media. "Just wow! Oh my god!"
As for Labor, Bill Shorten is on his own street walk of sorts today in North Queensland with his wife Chloe. He could definitely take some pointers from Ms Bishop if his efforts earlier this year are anything to go by, i.e. the lettuce incident at Woolworths when he asked a shopper what their favourite type was.
Peta Credlin obviously wasn't a fan of Julie Bishop's street walk, saying she thinks the PM's no show means he could be viewed as elitist by voters.
Talking on Sky News today, the former Liberal adviser coined the nickname 'Mr Harbourside Mansion' for Turnbull after he cancelled a street walk in Penrith.
'If it is known you were going to do a street walk in Penrith, the last thing you want to do, Mr. Harbourside Mansion, is to look like you don't know and you're not welcome'.
'I was surprised that they were flat footed, I would have thought particularly with the Prime Minister there that they would've been a little bit more agile, a bit more nimble'.
What do you think? Is it OK that Julie Bishop did a street walk instead of the PM? If you saw the PM or Bill Shorten on the street, what would you do?
@JulieBishopMP arrives at Winmalee HS. Will she ask about the school's fantastic #Gonski programs? @TurnbullMalcolm pic.twitter.com/3zMwqzM21V

— Michael de Wall (@mgdewall) May 12, 2016
"Julie Bishop is streaks ahead in street walk: Foreign Minister a hit in Campbelltown https://t.co/Bd5t3CEuEh via @smh" It's "streets" ahead

— Rev. Dr Brian Brown (@BrianBrownUCA) May 12, 2016
Julie Bishop is streaks ahead in street walk https://t.co/KM4oSPhmw3 #ausvotes pic.twitter.com/UH68b6538y

— Federal Politics (@PoliticsFairfax) May 12, 2016
Via @theage: Even to those outside Liberal base Julie Bishop is the party's shiniest star. https://t.co/g0JUHYtTnX pic.twitter.com/S1dxiJr1u3

— Natasha In Oz (@natashainoz) May 12, 2016
Chloe Shorten on the trail: Bill Shorten unveils Labor's secret campaign weapon https://t.co/DMWRb0H4IJ More of @chloeshorten, please!

— punchumgum (@punchumgum) May 13, 2016
Comments