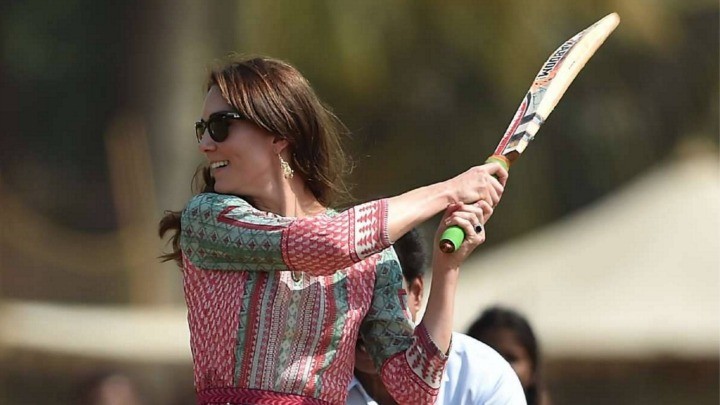 They may be in line to the royal throne, but that hasn't stopped the Duke and Duchess of Cambridge of getting their hands dirty at a local cricket game in India.
The young royals are in India on their first offical tour of the country together and have shown the locals their ready for action with a lively game of the country's favourite sport.
Despite wearing wedges and a gorgeous dress, Kate still managed to give the bowler a run for his money picking up the bat and getting a few runs before being bowled out by India's former captain Sachin Tendulkar.
Speaking about Kate and William's visit, Mr Tendulkar said he was surprised by how "sporty" the pair are.
"She batted, she fielded, she did everything!" adding she was "very, very sporty".
"What a fantastic experience it was to meet the Duke and the Duchess – remarkable couple – made us feel so comfortable and really humble, very very simple.
"And the noble causes they are sporting all over the world I think that shows what kind of heart they have and they feel for less fortunate ones.
"It's nice to know he understands cricket, he follows cricket. We discussed the T20 finals as well, we spoke about tennis, all in all a wonderful experience for me."
Asked about William's batting he replied: "He middled them all, so, even if it was against the wind, he was managing to get the distance."
Last night William and Kate headed to a star-studded charity ball run by Prince Charles' charity, the British Asia Trust.
The ball was attended by Bollywood stars and guests were treated to colourful entertainment and delicious Indian food.
One of India's most famous actresses said she had a lovely conversation with Kate, where she talked about missing Prince George and little Princess Charlotte.
"She said she loves being here and the people are very welcoming this time, but she was worried she may miss her children."
Speaking to the audience later in the evening, Prince William said he and Kate have always wanted to visit the country that was so close to his mother's heart.
"When Catherine and I were married, India was the first place on Catherine's list that she told me that she wanted to visit," he said.
"Two children and five years later, we have finally made it – and we are both honoured to be here."
The couple will continue their seven-day tour before making their way home later this week.
Are you a fan of the young royals? Do you think they will visit the Taj Mahal where Diana took her famous photo in front of the palace?
Comments