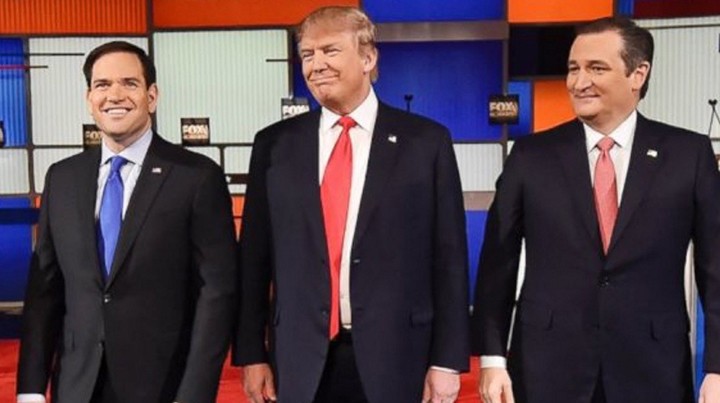 The worldwide smash hit TV show 'House of Cards' has nothing on the entertainment value of the farcical 2016 U.S. presidential race.  In the battle for popularity-first politics, Americans certainly lead the way, but Australia is not far behind it seems.  Do you think our politicians are becoming short term, popularity focussed like Americans and who is in the lead?  Is Australia actually leading the way?
If looking for a bit of light entertainment, you don't need too search much further than what Donald Trump's mouth has said before his brain had a chance to filter it, or who's been punched in the face at his latest rally.  Tony Abbott or Kevin Rudd might be seen the same way to some, along with the last five years in Australian politics we might well have already seen our era of national political lunacy.
Meaningful debate between hopefuls in America has played second fiddle to playground-style name-calling, incitement of racial separatism and an underlying childish tone of 'mine is bigger than yours'. Did I hear the names Pauline Hansen, or perhaps Clive Palmer echo through the room just now?
Rallies have turned violent and hundreds of incidents across the nation are writing a very dark chapter in what has already been an unconventional White House campaign.  In our own country, we won't step towards gay marriage and we repeatedly battle anti-muslim sentiment.
But now it seems, some Republican candidates, particularly Ted Cruz and Marco Rubio, want to steer the campaign to a more responsible, higher brow level.  Isn't that what Malcolm Turnbull just did with The Ideas Boom?
In the wake of a cancelled Trump rally in Chicago, given escalating violence, Cruz has finally come out swinging.  He said, "In any campaign, responsibility starts at the top. Any candidate is responsible for the culture of the campaign. And when you have a campaign that disrespects the voters, when you have a campaign that affirmatively encourages violence…you create an environment that only encourages this sort of nasty discourse."
Rubio went further. "Trump needs to 'own up' to the impact of the rhetoric he's used. There are consequences to the things people say in politics," he said.
But Trump doesn't care – he's got popular politics on his side.  Trump has said [of the violence], "The audience hit back. That's what we need a little bit more of. I don't take responsibility. Nobody's been hurt at our rallies," he told CNN.
It's hardly the type of attitude that is going to make America great again. Nor is it the type of person you want running 'the greatest nation in the world'.  Or is it?  Apparently 50% of Republicans want to vote for Trump putting him in the leading position for their nomination.
The problem in the US is that Trump's style of politics, his language and his message, typically appeals to the lowest common denominator.  They follow his words. They even act on them. It's a field day for the media and social airways.
Thankfully, we don't see things like this too much in Australia, or at least I didn't think we did until I took a closer look.  Sure, the circus often comes to Canberra, but it's the clowns playing funny buggers more than it is a lion gone bad on its tamer.
The problem for us all is that the power of social media has lead to politicians playing popular politics.
In a bygone era of politics, governments, those on either side of the political fence, use to put their heads' down, working tirelessly until their programs and policies were enacted. Reform occurred.
These days, it seems that the lifespan of any policy light bulb is only as long as it takes for social media to raise an eyebrow. Intestinal fortitude has been flushed down the toilet, and with it any chance for real change. Progress is a thing of the past.
Whilst there are few comparisons to be made between the actual events of the US presidential campaign and that of the imminent Australian election race, the words of Marco Rubio ring out.
There are consequences for the things people say in politics.  Our leaders need to strengthen their political resolve, stay true to their word and policies, and resist the urge to kowtow to what's trending.
Do you agree? Do both side of politics need to say what they mean and mean what they say, a lot more?
Comments