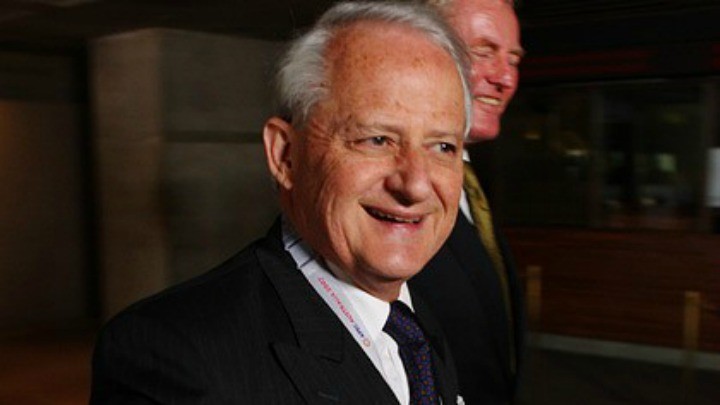 It was announced this afternoon that Philip Ruddock, the father of the House of Representatives and former minister during the John Howard's administration, will retire from politics at the next election after 42 years.
Ruddock, along with Bronwyn Bishop and other older politicians, have felt the pressure in recent months to step aside and let fresh young blood into parliament, but it's not this issue that has people talking – it's Ruddock's new job.
Julie Bishop announced today that Ruddock will become Australia's Special Envoy for Human Rights.
Australia's longest serving politician said, "Having been an executive member of the inaugural Parliamentary Amnesty Group some 40 years ago, that has driven my deep personal interest in these issues and has allowed me to develop a network of those dedicated to the advancement of human rights internationally. That passion remains unabated," reports The Australian.
"I believe the role of Special Envoy for Human Rights complements my long term engagement in these areas and aligns with my ardently held beliefs that Australia has a strong ability to advance human rights on a global scale."
Ruddock was immigration minister in 2001 during the Tampa crisis when Howard refused to accept 438 asylum seekers on board the Norwegian freighter the MV Tampa, and drafted the new laws that made it possible for the asylum seekers to be taken to Nauru. This "Pacific Solution" was the beginnings of Australia's off-shore processing policy.
The announcement has been met with shock and anger in some cases, as people question Ruddock's humanitarian qualifications. BuzzFeed reports that Amnesty International requested he stop wearing their pin on his lapel in 2000.
In his new role, Ruddock will campaign for Australia to become part of the Human Rights Council, and promote Australia's human rights record, reports the Guardian.
"As special envoy, Mr Ruddock will focus on advancing Australia's human rights priorities of good governance, freedom of expression, gender equality, the rights of Indigenous peoples, and national human rights institutions,"said Julie Bishop in a statement. "Mr Ruddock is well-qualified to advocate and represent Australia's human rights views and record."
Others disagree:
A Special Envoy for Human Rights: The Philip Ruddock Story. #auspol pic.twitter.com/YPRpcwv76h

— Senthorun Raj (@senthorun) February 8, 2016
Is there any way to distance @amnestyOz from Philip Ruddock? Or at least stop him from dusting off the badge for his new job? #auspol

— Yip Yip Bob (@exhumetw) February 8, 2016
Special envoy for human rights.. Is it April Fools… ?? https://t.co/EnNukfdY6z

— Lee (@LeeKindler) February 8, 2016
Philip Ruddock ambassador for human rights? At least the government has a sense of humour.

— Marie Louise Dreux (@mldreux) February 8, 2016
What do you think of this new posting for Philip Ruddock? Does he have your support?
Comments