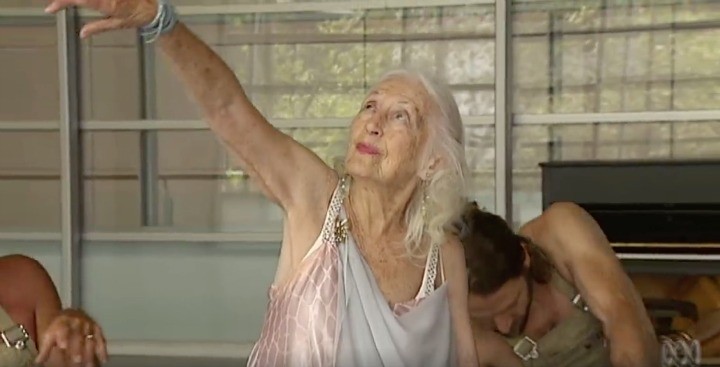 Proving that age doesn't have to be a barrier, Eileen Kramer is starring in her own dance production at 100 years old.
'The Early Ones' is Eileen's own choreography, developed especially so she can continue dancing despite partial blindness in one eye.
"I call it minimal expressionism", Eileen told the ABC. "Mostly I can stand still and perform".
The centenarian also retains creative control over her work, including all the costumes, sets and designs.
She still remembers the moment she became hooked on dancing, at the relatively late age of 24.
"It was the opening of the blue danube waltz", she recalled. "I fell for (dancing) straight away".
In her youth, Eileen toured internationally with the Bodenweiser dance company. It was Australia's first contemporary dance troupe.
Only two years ago, Eileen also starred in a music video clip. She believes the secret to longevity is creative pursuits, like her love of dance.
"Try to do creative work", Eileen advised others. "When you're dealing with creative work, you're doing something new all the time".
Eileen's bright attitude is inspiring people far younger than her 100 years. "Sometimes the spectre of ageing is intimidating", a young woman commented on Facebook.
"Then, I see someone who has traveled that way, with wisdom, grace and beauty, and I learn that the way is not as scary or hard as it seems".
Isn't Eileen inspiring? Have you continued with a creative pursuit you love? Share your thoughts below:
What an inspiration….an Australian dancer and choreographer is about to star in her next production…at the age of 100! (via ABC News)

Posted by Australia Plus on Wednesday, February 25, 2015
Comments