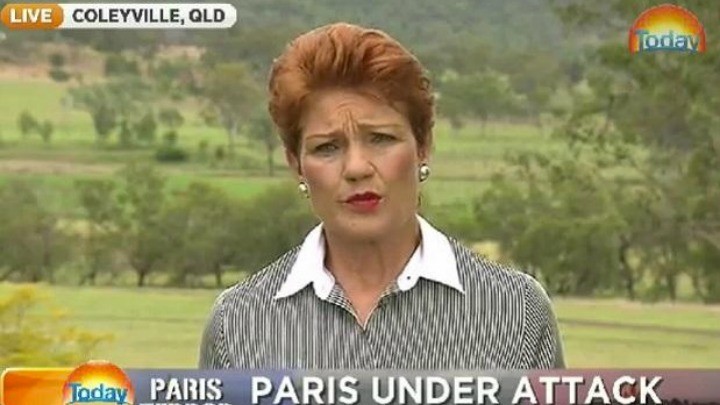 While she may not be smooth, slick or all that media savvy, Pauline Hanson has one thing that most politicians lack – the voice of the Australian people. At least, that's what Ms Hanson seems to believe. She reaches people in parts communities who feel they don't have a voice or a true representative in government.
Consequently, Ms Hanson is often "out on a limb" in her comments. And this was certainly the case when she appeared on the Today show to comment on the Paris terror attacks.
This is what she had to say:
Pauline Hanson discusses #ParisAttacks"People don't want another 12,000 refugees in Australia… Protect and give the Australian people the security they need and are screaming for". We spoke to Pauline Hanson about the situation in Paris. #Today9

Posted by TODAY on Saturday, November 14, 2015
"My message has been that we must be more vigilant on who we bring out to Australia," said Ms Hanson.
"These refugees may be cells that have been brought out, who have been planted ISIS… to become refugees who will end up in Australia, on Australian soil.
"Not every Muslim is a terrorist, but every terrorist is a Muslim,' she added.
"People don't want another 12,000 refugees in Australia. People of Australia don't want more Muslim refugees in Australia who may be ISIS plants."
Malcolm Turnbull today said the incoming Syrian refugees would be screened with utmost vigilance.
Some of the responses to Ms Hanson's words include:
"I'm an Australian, and I'm more than happy to welcome more refugees. She does not speak for me."
"You are a quirky person Pauline Hanson but this time I absolutely agree with your every word! I sincerely hope the 'powers that be' listen to you too!"
"This is when Facebook need a dislike button, Pauline Hanson is promoting hate and racism. ISIS is a terrorist organisation that hide behind a religion."
What do you think? Is Pauline Hanson voicing the concerns of real people in Australia, or is she pursuing her own agenda? Are you concerned about the imminent arrival of refugees, or 
Comments