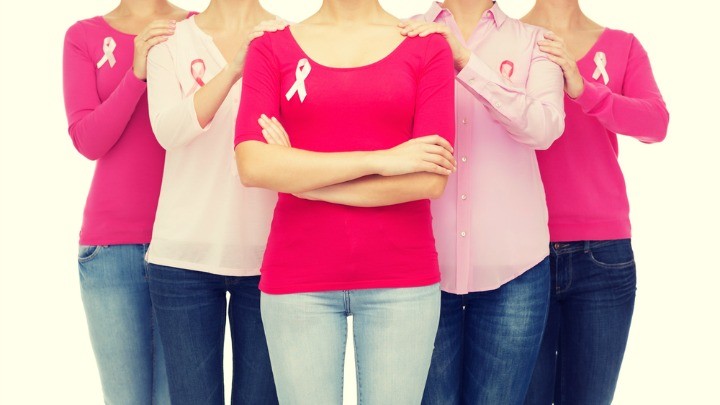 Sam Johnson, an Australian actor who campaigns for breast cancer research, has upset some of the 300,000 followers of his charity, Love Your Sister, by making a controversial decision.
In a lengthy rant, Johnson says he has decided to change the official colour of the charity from pink to black. Here's what he had to say on Facebook:
All this pink about the place is pacifying us into believing that enough is being done about our mums falling to breast cancer. My first act as Research Australia's Advocate of the Year is to ditch the pink.
I have made an executive decision without consulting my sister or our 300,000 strong village. I'm normally more inclusive, as our village would testify, but I'm feeling cross.
We've banded together, encouraged thousands of breast checks amongst ourselves and together we have raised $2.3M dollars to hasten the work of our most prodigious scientists at Garvan [Institute] and I've been a big part of that. So I'm putting my foot down. We no longer use pink. It misleads us. It's a soft colour. Nothing about [breast cancer] is soft. The only colour for me that truly represents the cancer that fells our mums is black.
F*** it. Love Your Sister uses black now, with a bit of silver and white, for the hope that I refuse to abandon. The Love Your Sister village will always be about family, love, togetherness and hope – this is what makes us such a strong village – but I'm afraid I'm frustrated with the rate of progress. I'm upset that our mums aren't being put first and that terrorism and some bearded blokes in a province we can't even pronounce seem to be more of a threat to us somehow?
I'm not angry – that's for the bigots – I'm just upset. I've been really nice so far – I'm not going to get nasty either, that's just not me – but I'm going to stop holding back. I always felt I had to be polite because it's a woman's issue (mostly) and what would I know, but I was wrong. It is my issue. It's my sister. It's our mums. I'll say it again for the slow-coaches – it's our mums.
So no more deference, no more fluff  – this year I'm going to do more and yell louder and if it's not your scene there's a lot of other pages for you that take a softly softly approach. This year I will honour my position that I have pedalled so hard for and worked so persistently at by organising a collective of the sharpest fuckers in the country and, because I'm smart enough to know how little I know, we are going to collectively figure out a way to take research from the GIVE-A-SHIT level it is at now, to the IT'S OUR MUMS LET'S DO MORE level.
And my sister is going to stay alive to watch me try. Let my reach exceed my grasp each and every day this year and at least until the day my sister dies. 
Not everyone agreed with Johnson's "executive decision", with some cancer suffers saying that black is the wrong choice:
One woman said, "I love everything you do from awareness to research to funding to being the most fantastic brother… But I think you are wrong about the black. I have terminal breast cancer and I do not wish to link anything about cancer with black. It conjures up an image of a black terrorising beast that will slowly/or quickly invade and infiltrate my body until I am sinking in its black inky power. I don't wish to give cancer power and I think black represents terrorism."
Another told her story: "Sam I understand 100 per cent what you are saying however I will never let the pink go! It's certainly not pacifying nor misleading. When my Mum was diagnosed with [breast cancer] in the late 1980s, it was hard to get info & together we attended many of the initial meetings of some of the BC groups around now and back then most people did not want to know! It was hard and we didn't do the softly, softly approach.We both attended the very first field of women in 1998 at Parliament House! It was so moving & such an incredible visual for the rest of Australia to see and there is no way I can picture this in black!
"To me black is black, we have had a few other family tragedies, black just isn't what I need to see! Thanks to all those breast cancer Warriors in previous years including my MUM who wore her pink proudly, pink is and always will be my choice, even when I do feel incredibly dark! I certainly do not feel warm and fuzzy when I see the pink, I see my mum in pain, losing her hair, going through chemo and this gets me angry enough to keep the awareness and fundraising going. A lot of work has gone into this recognition."
For Johnson, whose sister has terminal breast cancer and who cycled across Australia to raise money for research, this change to black is a remarkable move away from the positive, go-get-em attitude he has displayed, raising millions of dollars.
What do you think? Is black a better colour to apply to breast cancer or is pink the best choice? Share your thoughts and experiences.
Comments