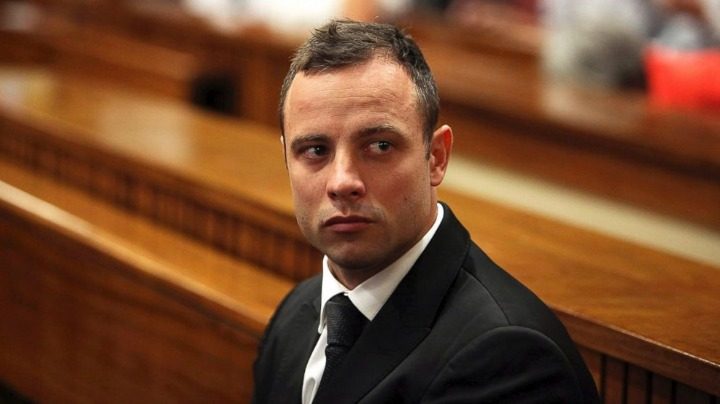 Quietly sobbing and clearly uncomfortable, Oscar Pistorius has walked around a courtroom in Pretoria without his prosthetic legs as his lawyers try to reduce his sentence for murdering his girlfriend Reeva Steenkamp.
In a bid to prove Pistorius' vulnerability, the athlete's lawyers asked him to remove his artificial legs and take a walk around the room in front of the judge and Reeva's family.
He had to grab onto the wooden benches at times to maintain his balance and was helped to his seat after a minute, clearly upset and distressed.
Pistorius was found guilty of murdering Reeva on Valentine's Day in 2013 after he mistook her for an intruder. He shot her four times through the door to his toilet in his bedroom.
His lawyers are asking the court to consider his disability and the fact that he has already served time ahead of his official sentencing on July 6.
"It is three o'clock in the morning, it is dark, he is on his stumps," Pistorius' lawyer Barry Roux said, stressing his client's vulnerability.
"His balance is seriously compromised and … he would not be able to defend himself. He was anxious, he was frightened.
"His perception that he and the deceased were in danger was fortified by finding the open bathroom window."
The Olympic gold medalist faces a minimum 15 years in prison for his crime, but is hoping for a reduced sentence.
Reeva's family was also in the court and yesterday her farther Barry gave a harrowing testimony where he described how he had learned his beloved daughter had been killed.
The tragic case has captivated the world and has divided many over whether or not Pistorius intentionally meant to kill Reeva and how he should be punished.
Share you thoughts with us. We'd love to hear your input on this controversial case.
Comments