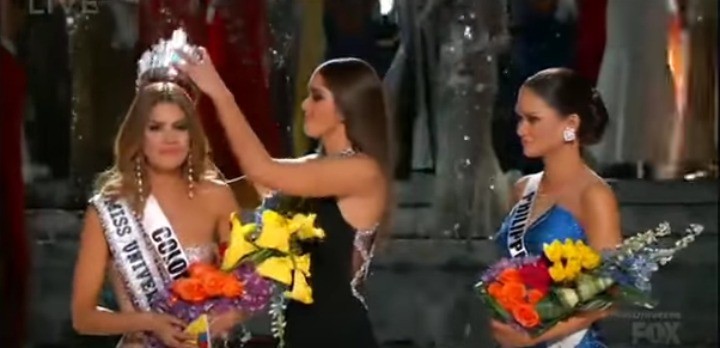 Since the incorrect contestant was announced ​as​ this year's Miss Universe winner, conspiracy theories are flying. Would a pageant really be so desperate for attention, that they could publicly humiliate a woman in front of 6 million viewers?
In the most shocking Miss Universe final ever, Miss Colombia was accidentally crowned after the host mistakenly read her name. The real winner was Miss Philippines, who eventually assumed the crown, but not until Miss Colombia had already completed a 3 minute winner's walk.
Miss Colombia was blowing kisses to the crowd and waving her national flag, before host Steve Harvey awkwardly interrupted. "I have to apologise. The first runner up is Colombia", Harvey explained. "This is exactly what's on the card", holding up the winning names for cameras.
This controversial crowning event has sent the internet into a frenzy. Many people are accusing the Miss Universe competition of trying to improve falling audience numbers.
Facebook user M. Tej wrote, "thank you Steve Harvey for getting attention for an almost forgotten and ridiculous contest. A contest, in which a woman is named Miss Universe based on the way she looks in a bathing suit and an evening gown. What year are we in? Women are better than this".
Whilst S. Trojansek added online, "the only thing people will remember about this pageant is that Steve Harvey called out the wrong winner". Indeed, many people are claiming that beauty pageants like Miss Universe are outdated and irrelevant in 2015.
Do you think there is a place for beauty pageants in 2015? Do you believe the conspiracies, and think the incorrect winner was deliberately called out?
Comments