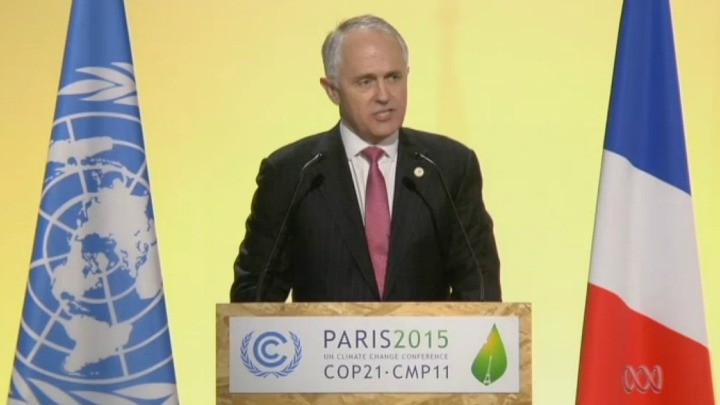 Spare a thought for Malcolm Turnbull today as he dodges the arrows being slung his way while he tries to navigate a path between what the world wants and what those in his party room demand.
As the Guardian pus it, the Prime Minister "came to the Paris climate meeting with good intentions but no political room to do much to prove them".
Mr Turnbull has had some wins in Paris – perhaps the first of which was the fact he was not Tony Abbott. He has committed to the US initiative for doubling spending on clean energy research and development, and ratified the second Kyoto protocol, all of which shows that he has a different attitude to climate change than his predecessor.
But the PM is far from being an island – or a captain – whatever happens in Paris, he has to come home and face his party; some of which are less than enthusiastic about the urgency of reform.
He already has several backbenchers offside after he alluded to the government being open to reexamining emissions targets in five years' time.
Liberal MP Dennis Jensen said discussion about increasing the target was "a joke". "I will certainly be very strong on the fact that we should not change those targets and that we stick with what we agreed [in] the partyroom and we don't change," he told the ABC.
Foreign Minister Julie Bishop has defended the Prime Minister, saying the targets Mr Turnbull has agreed on will not change over the course of the talks.
"There is no room for renegotiation … but in five years' time we can review where we're up to. If our past history is anything to go by, we over-achieve, we exceed our targets."
Mr Turnbull has also faced backlash for committing $1 billion of funding to help vulnerable nations protect themselves from climate change because the money will come from the existing aid budget, which was slashed last year.
Oxfam, Caritas, the Greens party and Labor are just some of the chorus of voices condemning this "commitment of nothing".
Tanya Plibersek said, "This is pretty rich, considering we have actually cut funding to countries like Kiribati that are currently struggling with climate change adaptation and mitigation, in fact we cut $2.5 million from Kiribati."
At least some people will be happy with the last-minute decision the Prime Minister made not to sign a communique in which 40 countries pledged to reduce subsidies on coal, oil and gas.
When the idea was first flagged, Queensland Nationals MP George Christensen said on Twitter "This communique, if signed, will cost coal mining jobs. For sake of NQ jobs, I oppose this."
They say you can't please everyone – do you think Malcolm Turnbull is in a difficult position? Are you happy with what's been agreed to so far in Paris? 
Comments