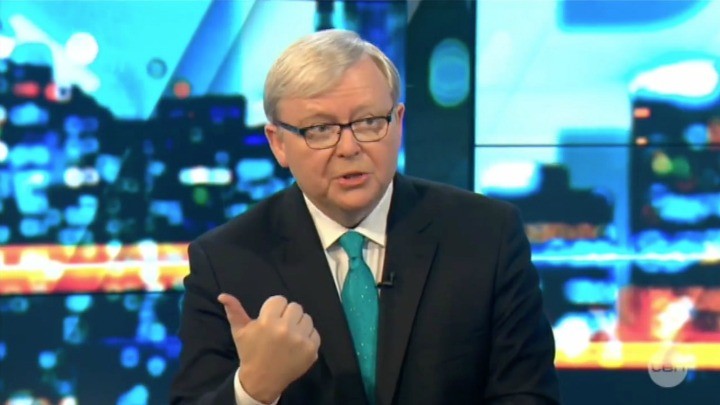 Sympathy for Tony Abbott, the 12,000 mile principle and boat people – Kevin Rudd has covered a lot of ground in an interview last night with The Project – could he be on a mission to ingratiate himself with the Australian public again?
The former PM, who has spent the past year in the US, told the hosts he is keeping out of sight (yes, while appearing on national TV), saying "I am maintaining this 12,000 mile principle which is while I am out of politics I should be out of sight as well."
When asked if he felt some level of responsibility for the criticism levelled at Australia by the UN human right's commission yesterday, Mr Rudd said "Australia's got broad enough shoulders to accept these reports when they come along."
He maintained that offshore detention is the "only rational approach" given our geographical location in the world but stressed "I did not support mandatory detention for children".
He also disagreed on some of the latest policies.
"When a boat tries to come to Australia you should not be in the business of turning it back on the high seas, but when a boat comes you take them, transfer them – as I agreed with the prime minister of papua new guinea or in Nuaru –for quick, temporary processing."
Mr Rudd was on a charm offensive, offering smiles and playful confusion over who our Prime Minister was these days, but said, "Objectively speaking, you've got to say Malcolm's had a good start."
"He has got to deal with the lunar right of his party – and there are some serious nutjobs there. We all know that, just as when I was prime minister and Bill (Shorten) today has got to deal with a whole bunch of factional thugs from certain trade unions who make life difficult for you."
Mr Rudd expressed some sympathy for Tony Abbott, "Look, everyone's a human being. But as we know it's a rough and tumble business,' he said.
We speak to former PM Kevin Rudd about his new job, the UN human rights review & political "nutjobs" #TheProjectTV

Posted by The Project on Tuesday, November 10, 2015
How did you feel seeing this interview? Do you miss Kevin Rudd or are you happy he's 12,000 miles away? 
Comments