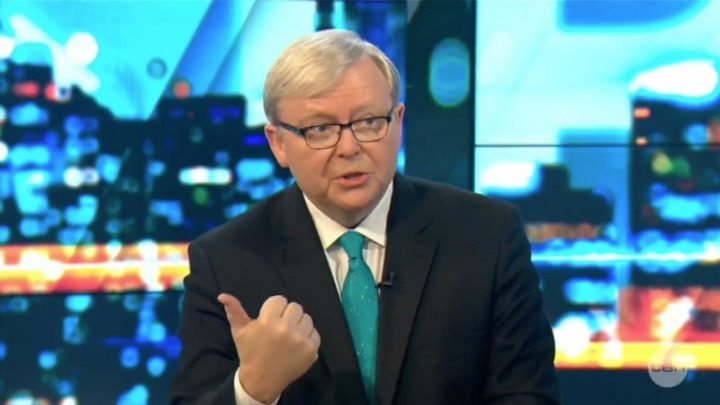 You all know politicians aren't regarded for their sense of humour. While you might laugh at them for some of their juvenile behaviour, the sense of fashion or because they can't tell the difference between an apple and an onion, it's not often a pollie will show any comedic talents of their own.
Enter stage right former prime minister Kevin Rudd, who is in New York at the moment trying to secure a role as the Secretary-General with the United Nations.
Though he faces some pretty stiff competition from former New Zealand PM Helen Clark — there's a rumour somewhere that only one in five Australians would back Rudd for the job. Are you one of them? — he was happy to sit down with The Weekly's Tom Gleeson for a grilling and Rudd showed there's hope for our politicians yet.
During the interview with Gleeson, Rudd copped gags about his shenanigans at the strip club Scores back when he was in the top job for Australia and he was happy to serve it right back to his interviewer.
But when it came to the bristly topic of the UN Secretary-General race, Rudd clicked straight back into politician mode.
"If Helen Clark becomes leader of the UN, will you undermine her?" Gleeson asked the two-time former PM, in reference to the living nightmare former prime minister Julia Gillard endured during her time in office with Rudd.
Masterfully avoiding the question in the only way a politician knows how Rudd responded by saying Clark was "a great candidate" and a "great international public servant".
Do you think Kevin Rudd was being a good sport? What chance does he have of securing the UN Secretary-General position?
Comments