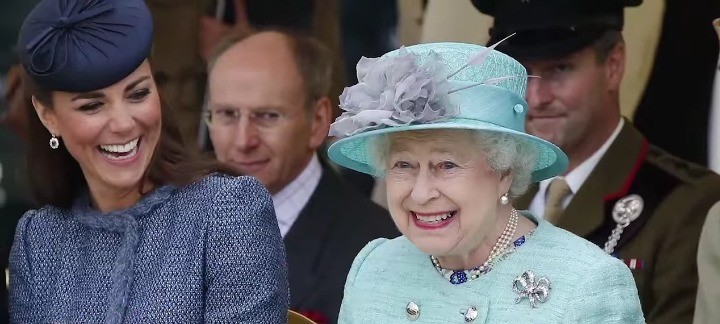 The Duchess of Cambridge has opened up in an interview to mark Queen Elizabeth's 90th birthday, speaking about her relationship with the reigning monarch and the rest of the royal family.
In the video interview, Kate speaks warmly about William's grandmother and talks about how the Queen has gone out of her way to make Kate feel comfortable.
In particular, the Duchess remembers an official function she had to attend without William in her early days as a royal.
She says the Queen attended the event with her and made sure she didn't feel alone or out of her depth at any time.
Kate also reveals the Queen has a particularly soft spot for the young Princess Charlotte and is always checking up on her to see how she is growing and changing and to make sure she is ok.
Kate says the reigning monarch was one of the first visitors she had when she returned home after giving birth and the Queen hasn't stopped checking up on her since!
In the surprisingly candid interview, Kate also spoke about how the royal family teases her constantly for being so chatty when she is out meeting with the public.
The Duchess is known for her generosity when it comes to public engagements and always takes her time to stop and talk with as many people as she can.
Apparently, the rest of the royals find it quite amusing, given how shy she was when she first started attending official outings, and have branded her somewhat of a 'chatty Kathy'!
Kate takes it all with good humour though and has previously spoken about how much she enjoys speaking with the hundreds of people that turn out to see her at every event.
Are you happy to hear the Queen has taken Kate under her wing? Would you be happy to see Kate as Queen one day? Would you prefer Prince Charles to pass on the throne to the young royals instead of being King himself?
Comments