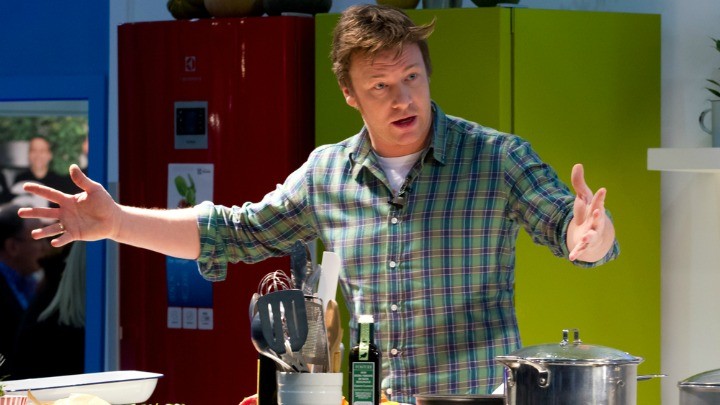 Jamie Oliver's crusade for healthier kids could turn political after he threatened to "get more ninja" if Britain's conservative party didn't come up with a tough anti-obesity plan. But questions have been raised over who the celebrity chef thinks he is, and exactly how far he will take the fight.
Appearing on a BBC TV show, Oliver urged Britain's prime minister David Cameron to think "as a parent, not a politician" as the government prepares to announce its much anticipated childhood obesity strategy.
The TV chef said that if the policy was not strong enough, he would take it personally, vowing to "change our strategy, get more ninja, go a bit more underground and a little bit less nice and try and get them out of power as soon as possible because child health has to be central to a healthy, prosperous economy", reports the Daily Mail.
Oliver said the fight against obesity was a "war"; he has been campaigning for a "sugar tax" on soft drinks of up to 20 per cent.
His comments were attacked by conservative MP Andrew Percy, who is a member of the House of Commons health committee, and who insists increasing taxes on soft drink and unhealthy foods will hurt families more than help them.
He said, "We don't have Government in this country by TV chef, especially not when they issue threats. The British consumer has never been more informed about that they are eating and the evidence for a sugar tax simply isn't there.
"Multimillionaire chefs might not be worried about their food bills going up as a result of this, but normal hard-working Brits will be."
According to the British Medical Journal, the 10 per cent levy on sugary drinks in Mexico led to a 12 per cent cut in sales in one year.
Jamie Oliver also recently convinced cheap-end supermarket chain Asda to sell "wonky veg" boxes for just £3.50 in an effort to cut food waste and help people on lower incomes eat better, reports Huffington Post.
What do you think Jamie Oliver means when he says he will "go ninja"? Would you like to see him move into politics?
Comments