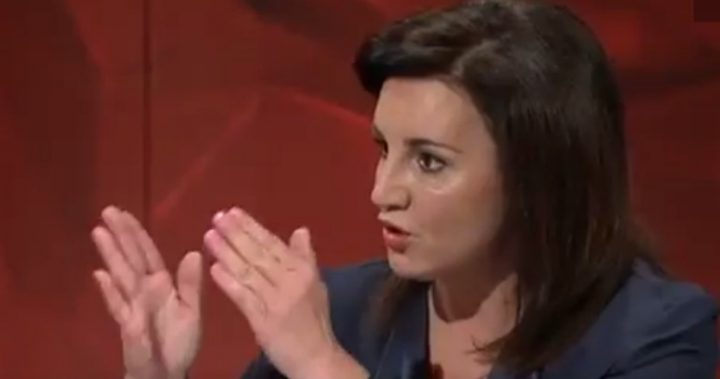 If you're a regular viewer of the ABC's Q&A program you'll know it can get pretty fiery at times.
But last night took it to a whole new level.
Senator Jacqui Lambie joined last night's panel, and she wasn't holding back.
The independent senator was vocal on a number of issues – from power prices to cuts to the pension and family tax benefits, and of course climate change, Donald Trump and Pauline Hanson.
She went in to bat for age pensioners on a number of issues, including higher energy costs and argued against cuts impacting the most vulnerable in society.
Lambie claimed Hanson and One Nation "was not there for the underdog" because they back the government's omnibus welfare bill.
She also compared the party to her former party Palmer United when asked if she'd have join forces with Hanson and One Nation.
"I was a part of a bigger, powerful entity once," she said.
"Didn't work too well for me and others."
How can we support families off the backs of Australia's most disadvantaged? @JacquiLambie says they can stick it#QandA pic.twitter.com/IaU8Ev8Y25

— ABC Q&A (@QandA) February 13, 2017
But it was on the subject of cuts to welfare and the childcare levies that she really fired up.
After Liberal senator James Paterson explained the situation, Lambie fired up.
"Oh, bulls***. I'm really angry about this," she said.
"I have come through that system. I was on welfare, on a disability support pension for 10 years trying to support for two kids. I've been at work where I have had to pay the childcare expenses where they've cost me three quarters of my wage as a young private in the army.
"We can do it a better way. If those big companies start paying their damn tax and that needs to be done and that goes for Google and Facebook, start taxing them. Don't tell me it's very difficult. It's very easy to come take money off your people living on or low the poverty line but it's too hard to go after their big donors."
.@KateEllisMP says don't take away safe spaces for kids @yassmin_a disagrees with @SenPaterson narrow view #QandA pic.twitter.com/QNhHXJVS8o

— ABC Q&A (@QandA) February 13, 2017
And while she had the audience and social media on her side for most of the episode, it was a heated clash with Muslim activist Yassmin Abdel-Magied that really got everyone talking.
Lambie and Abdel-Magied became embroiled in a heated debate over Islam and Sharia Law, which descended into a yelling match before host Tony Jones stepped in.
If you missed the show, it all started when Lambie said Australia should follow Trump's lead and bring in an immigration ban.
She argued that Australia should "look after our own backyard first" and deport Muslims who "support Sharia Law".
"When we've got one-third of our age pensioners living on or below the poverty line something needs to be done," she said.
"If that means we have to put a ban or a hold on that (immigration) for two years to fill in the gap and make sure that those people in our own backyard get what they need, so be it."
That prompted Abdel-Magied to respond and ask the senator if she actually knew what Sharia Law was, arguing that it was simply "me praying five times a day".
And that's when the fight erupted.
"What about rights for women? You can't be a sharia law supporter and be half pregnant at the same time." Lambie argued.
Abdel-Magied hit back, arguing that Islam was "the most feminist religion".
"We got equal rights well before the Europeans," she said.
"We don't take our husbands' last names … We were given the right to own land, their property.
"The fact people go around dissing in my face without knowing anything about it and want to chuck me out of a country…"
Is it time to define new rules so that migration doesn't disturb the peace? @JacquiLambie & @yassmin_a disagree vehemently #QandA pic.twitter.com/nRXyj3p2hG

— ABC Q&A (@QandA) February 13, 2017
Lambie responded by saying "We have one law in this country and it is the Australian law. It is not sharia law, not in this country. Not in my day."
But according to Abdel-Magied, Sharia Law tells believers they must follow the laws of the land they live in.
She told lambie that she was talking about "stuff she didn't know anything about" and spoke of how hurtful a travel ban would be.
But the senator was having none of it.
"We want to feel safe, be safe, and Donald Trump, if he wants to put those on hold for three months, he has every right to do so until he can work out exactly what is going on," Lambie said.
"If that's going to keep America safer just like it's going to keep Australia — stop playing the victim. We've had enough.
"Your ban got lifted. Get over it."
It was a debate that prompted claps and boos from the audience and was one of the most heated debates many had ever seen on Q&A.
Did you watch Q&A last night? What did you think of Jacqui Lambie? Did you agree with her views?
Comments