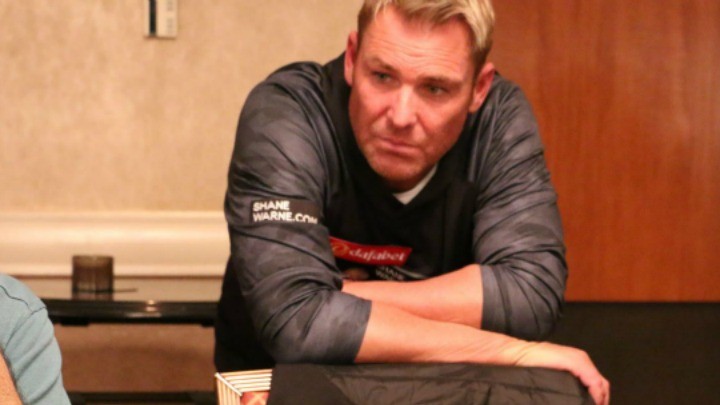 As speculation increases that The Shane Warne Foundation is done for, the man himself has taken to Facebook with a lengthy diatribe blaming a "few bad years" and "personal vendetta" for the potential demise of the charity.
The foundation is under scrutiny from Victoria's consumer watchdog even since it failed to deliver its annual statement in October last year. Consumer Affairs Victoria is also looking into reports that only 16 cents from each dollar raised actually goes to charity, and the salary of Warne's brother Jason, who is general manager, the ABC reports.
The foundation puts on glitzy high-profile sporting and poker events, however these seem to cost more than they raise.
After more headlines yesterday implying that the foundation would be forced to close, and that events have been cancelled, sponsors are pulling out and ambassadors stepping down, Shane Warne took to Facebook to defend his charity.
He wrote:
Woken this morning to more malicious attacks and false allegations about the Shane Warne Foundation. It's a real shame that certain journalists are continuing this ridiculous crusade/personal vendetta against the foundation and I can't understand why.
The board, patrons, ambassadors and everyone else involved at the foundation donate their time to make a significant difference to children and their families, which we have. We have saved children's lives and without our support would not be on this planet.
To have saved one life makes all the time and effort worthwhile, but to have saved many lives is something we are very very proud of. We've been able to fund children for a wide range of needs, from special wheelchairs that needed to be made, guide dogs, to sending children overseas with rare symptoms for specialist treatments like Maxi, supplying special ears, skin for children with horrific burns, children learning to walk again, the list could go on for many pages. In total we have helped out over 125 different children's charities and individuals.
As I said earlier we are all very proud of what we have achieved over a 12-year period and rightly so, we are thankful for the opportunity to be able to give back and have delivered on many levels. As chairman I'm so appreciative to the amazing board members, patrons and Ambassadors for their commitment to the cause. As well as all the people who come along to our events who very kindly support us too.
In dollar terms the facts are as follows….
Raised 7.8 million dollars and given away 3.6 million dollars. Add to this a cheque of 4/500,000 (approx) which will be presented over the next few months, then the total equates to $4/4.1 million dollars given away. Well done and congrats to everyone that has made this possible.
So when you've done nothing wrong and have committed by way of $ and time over the last 12 years to making a difference to save children's lives, along with giving back to the community but are constantly being criticised for that, then you can understand our frustrations, which leads to decisions that need to be made on the future of the foundation as it's not fair and it hurts.
Once again we have absolutely nothing to hide, no one on the board has ever received one cent from the foundation in any way shape or form.
Re Consumer affairs they now want an audit as a reaction to incorrect journalist reporting, which the foundation has to pay for, sorry? This is a disgrace and absurd and will go down as an expense. Go through everything you want at any time as we have nothing to hide, but you pay for it, as the foundation would rather spend the 10,000 dollars on children in need than on an audit.
In response to our events. The foundation puts on events to raise money pure and simple like all charities do, but unfortunately some events just don't raise as much funds as we would like. True we have had a couple of bad years. But the reasons for this are varied, fixed costs have been to high, times are tough, not charging enough for a seat, auction items going under what we thought they would sell for etc, what I can promise you is that nothing untoward or inappropriate has ever occurred at the foundation and anyone that thinks like that are totally wrong and is just ludicrous to suggest this.
I have been blown away by the overwhelming support we've had and I thank every one of you, it means a lot. Another huge thank you to the patrons, ambassadors, supporters too, but to these guys on the board for their determination, commitment, support and love for the cause, we set out to make a difference to children, we have delivered in spades and for that I'm very thankful.
Shane
Is this a case of "good intentions, poor execution"? Would you be sad to see The Shane Warne Foundation disappear? Share your thoughts.
Comments