Hugh Jackman has been captured rescuing his son Oscar and other swimmers, during a real-life drama at Bondi Beach. The Aussie actor was so distraught after the incident, that he was unable to speak with local media.
According to Nine News Australia, Hugh Jackman helped bring one swimmer back to the beach yesterday, before trying to reach his 15-year-old son. Lifesavers helped bring Oscar safely to shore, but were assisted in the surf by Mr Jackman.
Hugh Jackman was also spotted waving down fellow swimmers, in an attempt to warn them about a dangerous undercurrent. Witnesses described the actor as being "calm", but Mr Jackman was so shaken afterwards that he couldn't speak with local media.
"He stopped and helped this bloke stand up and he also helped his son", one witness described. "The swell was pretty nasty. It was a beautiful day but the swell was up". Meanwhile, the North Bondi Surf Life Saving Club has praised Mr Jackman's quick thinking.
"The beach had to be closed due to dangerous conditions, multiple rescues happening all at once and limited resources", lifesavers explained on Instagram. "Hugh Jackman was also spotted assisting with rescues! Thanks Hugh".
Hugh Jackman fans have also taken to social media, to praise the actor's efforts. "Nice guy on and off the big screen", one man wrote online. Whilst another added, "Good on him. He didn't have to do anything, and most people wouldn't have".
How do you keep your family safe in the surf? Share your encouragement for Hugh Jackman below: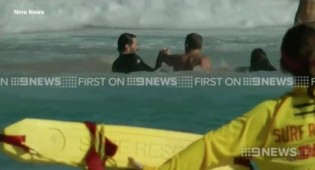 Hugh Jackman has been filmed rescuing his son and other swimmers from a rip at Sydney's Bondi Beach:https://t.co/2kVFvbQfHm #9News

— Nine News Australia (@9NewsAUS) March 26, 2016
Comments