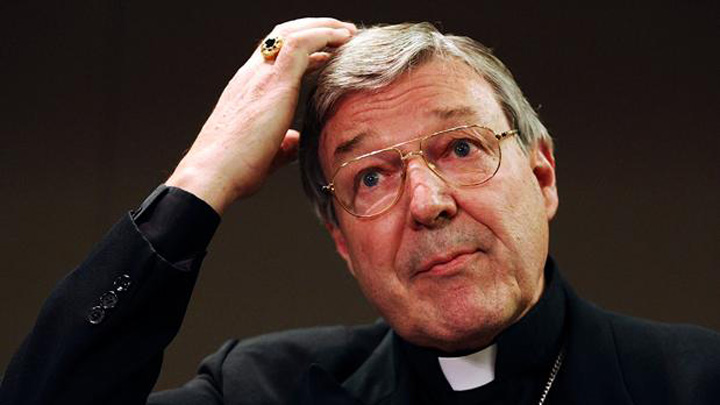 Victims of sexual abuse have been waiting for this moment for so long – the moment the highest Catholic leader in Australia tells his versions of events that go back over 40 years in the Church.
However it wasn't to be the confession they were hoping for: Cardinal George Pell said his memory was foggy and couldn't recall a number of key dates.
There was one date he did say he "suspected" others were committing child abuse – around 1973.
Under questioning via videolink from Rome, Cardinal Pell said a child at St Patrick's College in Ballarat told him about a Christian Brother called Edward Dowlan sometime during or after 1973. "There were one or two fleeting references … to misbehaviour by Dowlan, which I concluded might have been pedophilia activity," Cardinal Pell told the commission, reports The Australian.
But it was was far as he was willing to go against the Church that has been his safety net for many years.
While the cardinal did not name the boy who told him this, he added: "I remembered him as a good and honest lad and I didn't think he'd be … telling lies".
This account contrasts with that given in other evidence to the commission. One former St Patrick's pupil, Timothy Green, said he confronted ­Cardinal Pell in late 1974 saying "Brother Dowlan is touching ­little boys".
"Father Pell said 'Don't be ridiculous' and walked out," Mr Green's statement said.
Mr Green's statement said, "Archbishop Pell is quoted as saying 'At a distance of 28 years, I have no recollection of any such conversation. If I was approached and thought the stories plausible, I would have informed the Christian Brothers.
"Essentially, Pell denied that I had told him about Dowlan, and denied any knowledge of sexual abuse in Ballarat."
Cardinal Pell asked St Patrick's College's school chaplain "if there's any truth in [the allegations]" and he was told, "yes, there are problems … but I think the Brothers have got the matter in hand", the commission heard.
Sadly, Dowlan was able to continue his work at Christian Brothers schools for nearly 20 years before being convicted for abusing boys in his care, the commission has heard.
Another Catholic teacher at the school, Leo Fitzgerald, was known to kiss the pupils goodbye and to take some swimming naked, Cardinal Pell said.
Cardinal Pell, said "People were aware of it and they weren't insisting that anything be done", when questioned about Leo Fitzgerald, who kissed pupils and took them swimming naked.
There were 14 Ballarat child abuse victims in Rome to watch Cardinal Pell after a medical issue prevented him from travelling back to Australia.
David Ridsdale, whose uncle Gerald was a pedophile priest, said: "We need the hierarchy of the Vatican to stand up and take responsibility and not hide behind legal processes. Please, we don't want to see survivors in 50 years; we want to be the last survivors".
Back in Ballarat, more than 60 people gathered in the Trench Room at Ballarat Town Hall to watch Cardinal Pell's testimony.
Cardinal George Pell's testimony was 45 minutes in when he acknowledged that his recollections would be hazy and his memory might fail him in this hearing.
"I can't remember," Cardinal Pell said when questioned.
"I'm struggling to remember," he said later.
"I can't clearly recall," he said.
Tim Lane, 44, was abused in his home as a child and wanted to hear Cardinal Pell on Monday.
"I was four when I was abused. I'm now 44. And I remember it vividly," Lane told The Age. "I remember every detail. And they were grown men but they remember nothing? I don't accept that."
Gerard Morrow, 59, was first abused when he was 11, at De La Salle College in Malvern.
"They just keep giving us continual denials and 'I don't remember' and 'I don't recall'. And what drives me nuts is we've gotta recall it," he said. "If they put us on the stand, we've gotta remember what the dates were, what happened, how did it happen. They just go, 'I don't recall', 'I'm too old', 'I'm having a senior citizen moment'. It's pretty much what I expected. Which wasn't much."
Tim Lane stood in Ballarat Town Hall and said, "It's everything I expected. The memory loss. The little tricks to get away with it. They haven't gotten away with it though, because even if man misses it, He doesn't".
Pell's hearing in the royal commission will continue today, Wednesday and possibly Thursday.
Tell us, should Pell be more considerate of the victims who are watching and give more accurate recollections? Do you think he knows more?
Comments