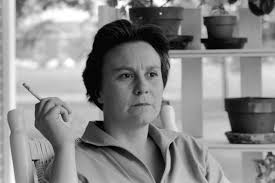 Harper Lee's biographer, Charles J Shields, believes he has found another previously unknown Lee text — a feature article on the real-life quadruple murder at the centre of Truman Capote's In Cold Blood.
Written in the March 1960 issue of the Grapevine, a magazine for FBI professionals — just months before her famous To Kill A Mockingbird was published — the article is a substantial feature about the gruesome murder of Herb and Bonnie Clutter and their teenage children Nancy and Kenyon at their Kansas farmhouse.
Capote published his book in 1965 to critical acclaim, and described his friend Lee as his "research assistant", however many believe that Lee had greater involvement.
The article was published anonymously, but Shields found a reference to it in the Garden City Telegram in a column written by Lee's friend Dolores Hope.
"Nelle Harper Lee, young writer who came to Garden City with Truman Capote to gather material for a New Yorker magazine article on the Clutter case, wrote the piece for the Grapevine," Hope wrote in February 1960.
Shields did some digging, including contacting the Grapevine in Washington, and found the well-written article and further evidence of her authorship.
The article recalls how Alvin Dewey, an agent for Kansas Bureau of Investigation, embarked upon solving the murders.
"The clues Dewey and his colleagues worked on in the beginning were meagre. The killers took with them the gun and shells used to murder the family; adhesive tape used to gag three of the victims could have been brought anywhere. The nylon cord with which the family were bound was of a common variety. … However, in the basement furnace room where the Clutter's body was found, investigators discovered a clear footprint etched in blood."
Shields found the article while revising his 2006 biography Mockingbird: a Portrait of Harper Lee and told The Guardian he was "looking for clues" that had been possibly overlooked previously.
The Grapevine, which had suspected Lee as a contributor, will reprint the article in an upcoming issue.
Have you read Capote's In Cold Blood? Are you excited by yet another Harper Lee published work find?
Comments