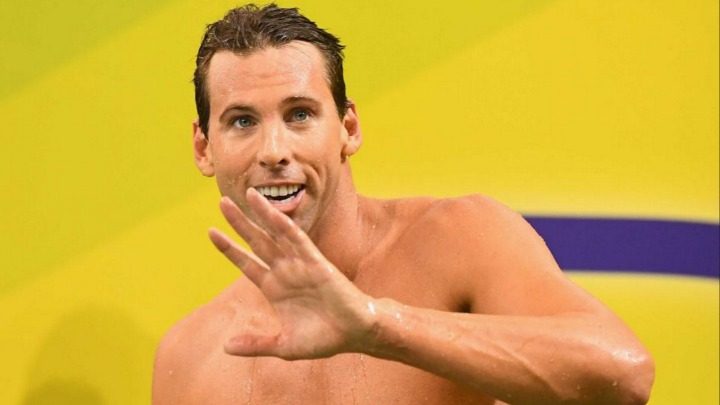 Grant Hackett is regarded as one of Australia's best Olympians and athletes, but after his mid-air meltdown on a flight recently many are questioning whether or not he should be allowed to attend the Rio Olympics as a mentor.
Hackett was on his way home from the Olympic swimming qualifying trials, where he failed to make the final team, when he got drunk and allegedly groped the man sitting next to him.
He is said to have consumed more than half a bottle of gin before reaching over and putting his hand inside the man's shirt and "tweaking his nipple".
He had to be helped off the plane of was pictured slumped over in a wheelchair at the airport.
Hackett has since apologised for the incident and says he has to address his issue with binge drinking.
Furthermore, Hackett says he wants to use his past experience in the pool to help mentor the young swimmers heading to Brazil this year to compete in the Olympics.
"As much as these experiences are negative and have hurt … going through the ups and downs I have had may create greater guidance to athletes I want to help," Hackett said.
The triple Olympic gold medallist felt he could still make a difference with the national team.
"I do know what it takes to win an Olympic gold medal," he said.
"And there are a lot of people on that team who've got an opportunity and talent to win one.
"I would hate to see a situation like James Magnussen where he missed out on gold by a hundredth of a second because someone wasn't on his side giving him the right advice.
"I would love to be there for people who want my support."
The request has divided many, with some people saying he needs to deal with his own issues before taking on any sort of guidance role with young athletes.
Others though say he deserves the chance to redeem himself and say his experience and expertise could be a huge support to our young athletes facing the pressure of their first Olympics.
What do you think?
Should Grant Hackett be allowed to mentor the young swimmers at the Rio Olympics? Or, do they need a less controversial role model?
Comments