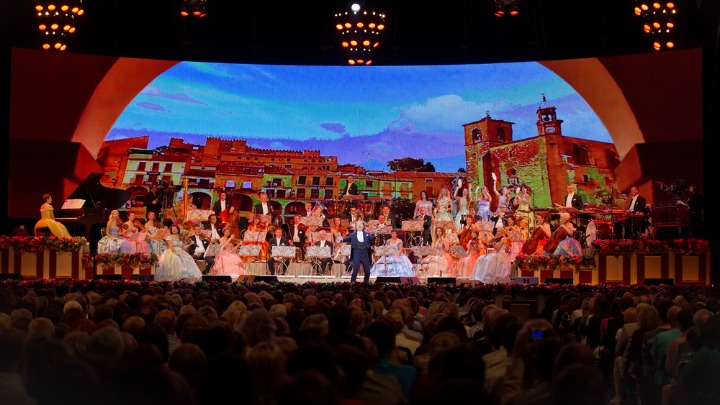 Andre Rieu has been described as a lot of things — musical genius, violin maestro… The list goes on. Now he can add the 'Mel Gibson of the violin' and the 'Patrick Swayze of classical music'.
Talking with the Daily Mail recently, Rieu — when compared to his handsome competition — cried, "Yes, yes, yes. That's fine. I'm happy with that."
He showed surprising good humour when it came to talk of his image. The violin player has sold more than 40 million albums worldwide and has won numerous platinum records and two World Music Awards along the way. He's even sold out more concert venues than Beyonce!
His shows are regarded as being wonderfully flamboyant, with one show said to have featured a replica Titanic sinking beneath the stage and the performer has been quoted as describing them as "like making love" — the audience might start slowly with gentle taps of their toes in their seats, but by the end of the show they are frantically dancing up the aisles.
"From the moment I come on, I grab them," he tells the Daily Mail. "But nicely, where they want to be grabbed and they start to love each other again. There's a physicality. They feel better."
When discussing his upbringing, the son of a Catholic conductor father who has five siblings says, "My family were deeply snobby and loop-the-loop."
He says his youth was not fun and there was little to be happy about growing up, constantly being told by his parents that he would amount to little.
But after four years of therapy though Rieu was able to break free!
His advice for anyone interested is to "do what you like well and then you will get this glow".
Rieu will return to Australia in October this year, with his 'Maastricht' concert.
Are you an Andre Rieu fan? How would you describe the violin genius?
Comments