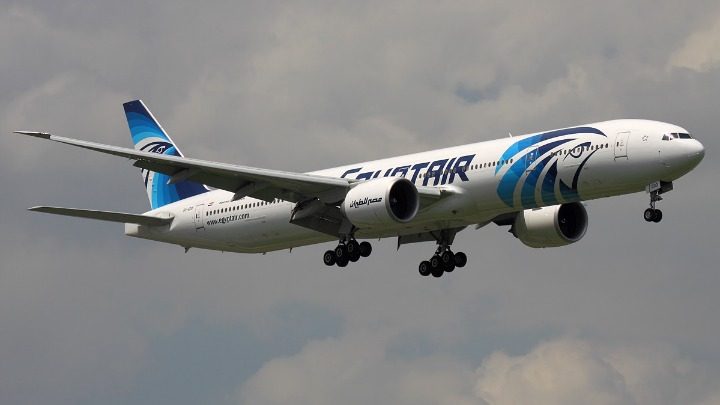 An EgyptAir flight carrying 66 people has disappeared from the radar and lost all communication after entering Egypt airspace on a flight from Paris to Cairo.
There are fears the plane has crashed into the Mediterranean Sea with officials holding grave fears for those on board.
The plane issued a distress call nearly two hours after it disappeared off the radar and an hour after its scheduled landing time.
Flight MS804 departed from Paris at 11:09pm (CEST) carrying 56 passengers, including one child and two babies, plus three EgyptAir security staff and seven crew members.
The last communication with the pilot was when the plane was over the Greek island of Kea.
"The pilot did not mention any problems," Kostas Litzerakis, head of Greece's civil aviation department, told the Reuters news agency.
The plane disappeared from radar screens two minutes after exiting Greek airspace.
.@EGYPTAIR stating #MS804 has "disappeared from radar". FR24 flight track: https://t.co/6tH4GQzOWU pic.twitter.com/NteMuuFj1O

— Flightradar24 (@flightradar24) May 19, 2016
EgyptAir has released the nationality of those on board as: 15 French, 30 Egyptian, 1 British, 1 Belgium, 2 Iraqis, 1 Kuwaiti, 1 Saudi, 1 Sudanese, 1 Chadian, 1 Portuguese, 1 Algerian and 1 Canadian.
A spokesperson for the airline said they believe the plane most likely crashed into the sea as it neared the last few hours of its flight time.
The company has been updating family and media via its Twitter account and has set up a crisis centre for the distraught families of those on board.
Flight Radar 24 shows the moment the plane fell off the radar, sparking frantic efforts to try to make contact with its pilots.
EGYPTAIR confirms that there are 56 passengers in addition to 10 cabin crew members onboard the aircraft.

— EGYPTAIR (@EGYPTAIR) May 19, 2016
EGYPTAIR has hosted the passengers' families near to Cairo Airport and has provided doctors, translators and all the necessary services.

— EGYPTAIR (@EGYPTAIR) May 19, 2016
The incident follows a number of high-profile plane crashes and disappearances in recent years with Malaysian Airlines flights MH370 and MH17 being the most high profile.
MH370 is believed to have lost contact somewhere over the Indian Ocean with recovery teams losing hope they will ever find the missing plane.
Six Australians were on board the plane when it went missing on March 8, 2014.
Not long after MH17 was shot down over Ukraine killing everyone on board, including 17 Australians.
Share you thoughts below.
Comments