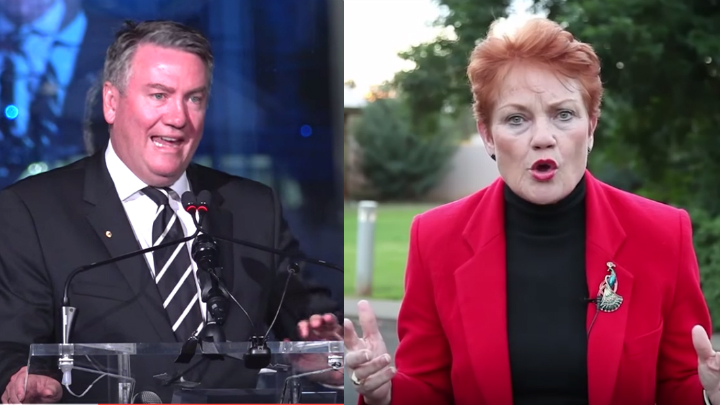 This morning, Collingwood AFL boss Eddie McGuire came under fire for joking that he would pay $50,000 to see a woman journalist drowned.
He has since apologised saying, "[I'm] really disappointed that these comments have led to these feelings from people."
"I apologise and retract them in the spirit of what we're trying to achieve, which is to look after women and children in our community," said Mr McGuire.
His apology and retraction came after he initially said the comments were made "in the spirit of the fun on the day and who would be next going down the slide", reports ABC.
While MrMcGuire has taken back what he said and apologised, Pauline Hanson has now come forward to "defend" him.
Ms Hanson said the comments about AFL reporter Caroline Wilson were obviously made 'in 'jest' and that she had similar thoughts about journalists during her time in the public eye.
"Some of these journalists, I'd drown half of them," Ms Hanson told the Seven Network on Monday.
"Some of them, what they write, sensationalisism [sic]. They just don't have regard for anyone else," she said.
Ms Hanson, who is seeking a Senate seat for Queensland at the July 2 election, said she had been subjected to many similar comments over the years and people needed to "toughen up".
"I remember years ago when Tim Fisher said "she should be burnt at the stake" – they printed that."
"I just think it's ridiculous. There's other things in life to worry about."
Mr McGuire made the comments during an interview about Wilson potentially taking part in next year's 'Big Freeze' event – where a number of a AFL personalities slide into a pool of ice water to raise money to cure motor neurone disease.
Mr McGuire was one of the celebrities to take part in this year's event, and made the remarks moments before taking the plunge, reports Daily Mail.
"In fact I reckon we should start the campaign for a one-person slide next year. Caroline Wilson. And I'll put in ten grand straight away- make it twenty. And if she stays under, fifty," said the The Collingwood president.
He then asked other people on the Triple M broadcast – including North Melbourne president James Brayshaw and former player Danny Frawley – if they were 'in' on the joke proposal.
"Yep, Straight in," Brayshaw said.
"I'll be in amongst it Ed… I'll actually jump in and make sure she doesn't – I'll hold her under, Ed," Frawley replied.
McGuire even said some fans would be willing to 'chip in' for Wilson to jump into the ice pool.
Some people think Ms Hanson is just trying to get more publicity to herself while others believe she had a valid point. What are your thoughts?
Is it okay to make jokes like this?
Comments