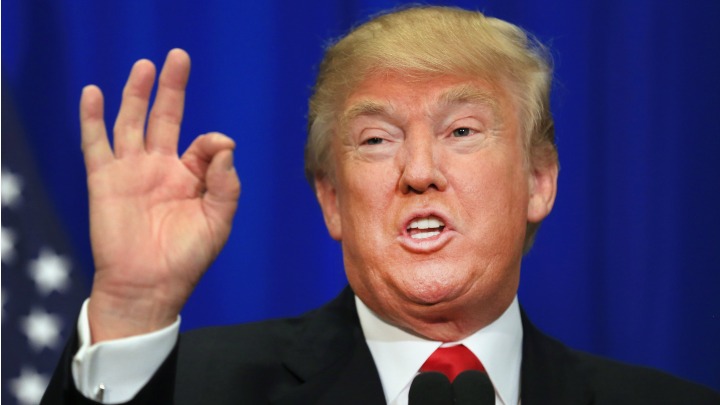 Donald Trump is making a poor case against the fact that he's Russia's favoured winner of the 2016 US Election.
Just as experts are parsing the hacking of the Democratic National Committee's computers as a genuine national security threat, GOP candidate Donald Trump urges Vladimir Putin to keep up the good work, by challenging Russia to hack into Hillary Clinton's emails.
"Russia, if you're listening, I hope you're able to find the 30,000 emails that are missing. I think you will probably be rewarded mightily by our press," Mr Trump said.
The Clinton camp responded immediately and furiously.
"This has to be the first time that a major presidential candidate has actively encouraged a foreign power to conduct espionage against his political opponent," Mrs Clinton's senior policy advisor Jake Sullivan said. "This has gone from being a matter of curiosity, and a matter of politics, to being a national security issue."
Mr Trump had previously dismissed the claims that Russia was behind the hacks, saying it's not clear who hacked those emails, but the incident is a sign that foreign countries no longer respect the US.
"If it's any foreign country it shows how little respect they have for the United States," said Mr Trump, who added that he was "not an email person myself because I believe it can be hacked."
In a fumbled effort to walk back that invitation to Moscow, Mr Trump responded to reporters who asked if he really was serious in urging foreign eavesdropping on Clinton or the DNC, dismissively – "That's up to the president."
Pressed, he told a female reporter: "be quiet — let the president talk to them."
In a series of Twitter messages, Jason Miller, a campaign spokesman, tried to clarify Mr. Trump's comments, tweeting:
3/7 To be clear, Mr. Trump did not call on, or invite, Russia or anyone else to hack Hillary Clinton's e-mails today.

— Jason Miller (@JasonMillerinDC) July 27, 2016
4/7 Trump was clearly saying that if Russia or others have Clinton's 33,000 illegally deleted emails, they should share them w/ FBI immed.

— Jason Miller (@JasonMillerinDC) July 27, 2016
7/7 Don't forget DNC was hacked and all sorts of embarrassing emails about smearing Sanders and rigging their system have been released.

— Jason Miller (@JasonMillerinDC) July 27, 2016
In a Twitter post of his own however, Mr Trump tweeted:
If Russia or any other country or person has Hillary Clinton's 33,000 illegally deleted emails, perhaps they should share them with the FBI!

— Donald J. Trump (@realDonaldTrump) July 27, 2016
What do you think of Donald Trump's latest press conference gaffe?
Comments