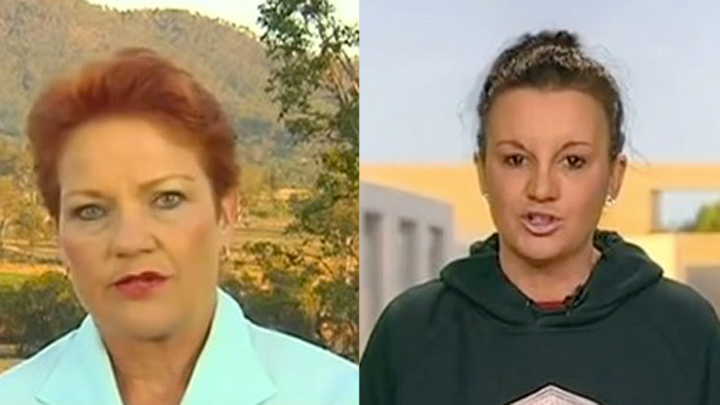 She's been called the new Pauline Hanson, but how can she be when Pauline Hanson is still around spreading vitriol about Muslims and refugees? Just yesterday Jacqui Lambie put her two cents in about national security and it's left many shaking their heads at her poor choice of words.
On ABC radio yesterday, Senator Lambie said the Grand Mufti of Australia should be monitored using an electronic anklet, and incoming Syrian refugees should have more rigorous security checks.
She again talked about Sharia law and how she thinks new citizen should swear they will follow Australian law instead.
Lambie told ABC radio on Wednesday morning that new citizens should be made to swear to uphold Australian law rather than sharia.
"We do have the right and duty to discriminate on the basis of whether prospective citizens will accept and uphold our democracy and culture, our Australian laws," she said. "Therefore, a key test of whether people are worthy of our compassion and are suitable for citizenship is their opposition to sharia or terrorist law, as we call it."
She also suggested that she was suspicious of the Grand Mufti, Ibrahim Abu Mohamed and "Maybe the first person who should have an electronic device put on them is the bloody grand mufti. We'll be able to monitor him, where he's going and what he's doing".
"Security vetting process has failed in France and other western cultures including our own and it must be fixed so our citizens come first," she said. "Australians should always be put first".
On the back of the government's announcement to allow 12,000 humanitarian visas to be issued to Syrian and Iraqi refugees, Ms Lambie said, "these terrorists are infiltrating in with the refugees".
Her latest remarks come just days after her relative equal Pauline Hanson gave one of her most controversial interviews yet, saying "Not every Muslim is a terrorist, but every terrorist is a Muslim" and "These refugees may be cells that have been brought out, who have been planted by ISIS… to become refugees who will end up in Australia, on Australian soil.
"People don't want another 12,000 refugees in Australia. People of Australia don't want more Muslim refugees in Australia who may be ISIS plants".
The question we have is do we really need two of these women spreading these messages to the greater public? Is one enough?
At a time when we need more love than hate, the general consensus seems to be that they should be ignored, but why are so many listening?
We'd love to know your thoughts today…
Comments