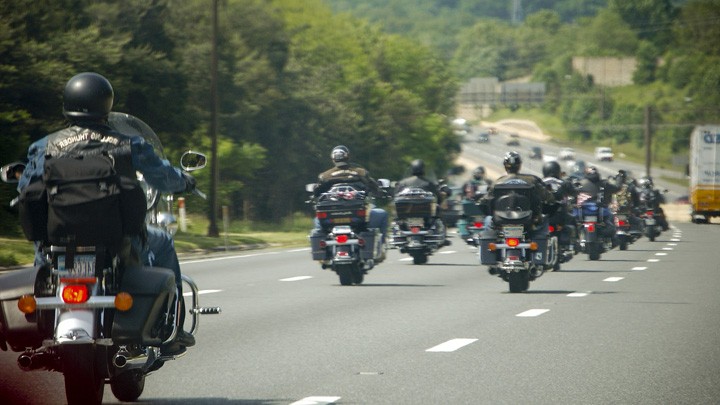 There's no denying motorcycle gang have a formidable presence but for the most part, our society co-exists with bikies who often are simply riding along.
But there are renewed calls to crackdown even further on outlawed motorcycle gangs, particularly in Queensland, where there's already a tough stance on bikies.
This week the state government agreed to adopt some of the 60 recommendations contained in the Taskforce on Organised Crime Legislation's report and promised to consider the rest, although right now they're not sure how it will work.
If you remember when the bikie laws were introduced several years ago in the Sunshine state, former Premier Campbell Newman was threatened by the gangs who said they had his address.
His harsh laws led to the jailing of several bikers, and was met with a mixed reaction by the public.
According to Sky News, the QLD government will introduce a new serious organised crime circumstance of aggravation, which will make sure offenders face mandatory jail time and when released are placed on a control order, similar to those used in anti-terrorism legislation.
The existing anti-association laws, which stop three of more criminal bikies from being in public together, are going to be replaced by reducing it to two.
Premier Annastacia Palaszczuk would not say whether the new law meant bikies without criminal convictions could gather in large groups wearing gang colours.
'I want to see the people who commit crimes go to prison – that's what I want to see,' Ms Palaszczuk said on Tuesday.
Ms Palaszczuk said she would travel to Sydney with Police Commissioner Ian Stewart to discuss NSW's anti-bikie laws with Premier Mike Baird and NSW Commissioner Andrew Scipione to ensure uniformity between states.
But LNP member for Surfers Paradise John-Paul Langbroek says if the proposed changes go through, outlaw motorcycle gangs will run rampant in outrage, reports the Gold Coast Bulletin.
"They may not be allowed to wear colours but they are intimidating by their very presence," Mr Langbroek said. "They will be able to masquerade as doing a nice charity run like the Rebels do and tell me, when you see 150 of them riding through a community that that is not intimidating by itself.
"What it means is 50 bikies could wander down to a Broadbeach or Surfers Paradise restaurant and police would not have the power to stop them from doing it."
But when asked about the threat to society, Ms Palaszczuk said, "Outlaw motorcycle gang members comprise only a portion of the threat that criminal organisations pose in this state.
"Queenslanders deserve to know that their safety is protected by strong laws — operationally strong enough to combat every form of organised crime and legally strong enough to secure convictions that won't be overturned".
Tell us, do you think the bikie laws are too tough or not tough enough?
Comments