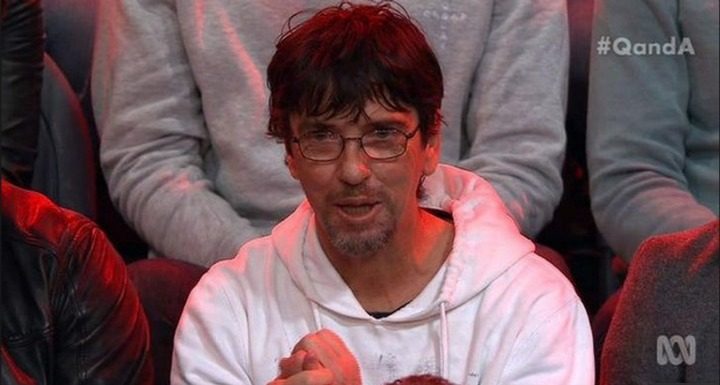 Duncan Storrar became a bit of an Aussie hero when he took on the panel on Q&A on Monday night.
Duncan was in the audience for the show and asked the pollies on the panel how they could justify cutting the tax threshold for people who earn of $80,000 when low income earners are doing it so tough.
His question was aimed in particular at Assistant Treasurer and Small Business Minister Kelly O'Dwyer.
"I've got a disability and a low education, that means I've spent my whole life working for minimum wage. You're going to lift the tax-free threshold for rich people," Mr Storrar told the panel.
"If you lift my tax-free threshold, that changes my life. That means that I get to say to my little girls, 'Daddy's not broke this weekend, we can go to the pictures'.
"Rich people don't even notice their tax-free threshold lift. Why don't I get it? Why do they get it?"
How come rich people get a lift in their tax-free threshold? @cassandragoldie responds #QandA https://t.co/ypCU0S3iyE

— ABC Q&A (@QandA) May 9, 2016
Ms O'Dwyer's response left Duncan and the whole country baffled when she launched into a lengthy explanation about how her policies were in fact good because they helped cafe owners buy $6000 toasters.
"We have a company tax cut with small business with a turnover of $2 million and $20 million … it creates more jobs," she said.
"One of the cafe owners I spoke to the other day has got a turnover of just over $2 million. As a result of our change … he will have access to the instant asset write-off, which means he can invest in his business, a $6,000 toaster.
"[It] means he can get more customers through his business on a Saturday, when there's a bottleneck … 'cause toast is that bottleneck he needs to clear in order get more people in."
.@KellyODwyer says it's all about balance & we're making the right choices to grow the pie. #QandA https://t.co/I8fX9OHlAw

— ABC Q&A (@QandA) May 9, 2016
Thousands of people watching the show immediately jumped on social media, first to ask "what on earth is Kelly O'Dwyer talking about?", and second to show their support for Duncan.
Viewer Samuel Slammer Fawcett decided to take it one step further, setting up a GoFundMe campaign for Duncan and his family with the goal of raising $6000 for them – exactly the price of Ms O'Dwyers infamous toaster.
"Hey — Duncan seems like a good bloke and every little bit of cash goes a long way," the campaign states.
"We reckon he deserves a bit of a helping hand so we've decided to buy him a new toaster.
"6 grand oughtta (sic) cover it. And if he has a little bit left over, maybe he can take his kids to the movies or something."
By this morning the campaign had raised close to $10,000 with more nearly 500 donations.
It is understood that Duncan and his family will be given the money when the campaign ends.
If you want to contribute, you can do so here.
Comments