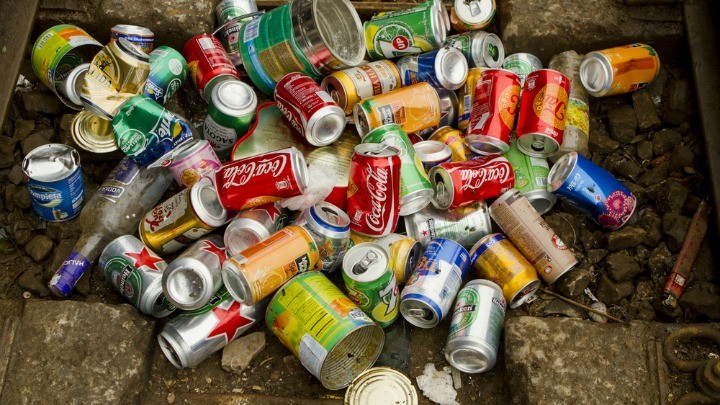 Greenpeace have released a video targeting Coca-Cola's industry-backed recycling scheme, claiming that it will not solve the "enormous litter problem in NSW".
The video takes aim at the "Coke way" of recycling and urges the NSW Government to support a "recycling plan that works", in the form of a container deposit scheme (CDS).
The 40 second video mimics a Coca-Cola Amatil ad with a sinister twist, picturing beach goers surrounded by discarded bottles and a dead bird falling from the sky. It also reveals that more than 40 million cans and bottles are littered in NSW every summer.
In a media release Nathaniel Pelle, Greepeace Australia Pacific campaigner, said, "Last year, Mr Baird (Premier of NSW) committed to a world's best-practice container deposit recycling system by 2017. Now Coke is lobbying hard to get him to break his promise by choosing its own plan, which won't solve our enormous litter problem."
The SMH reports that instead of the "Refund CDS" scheme, which is framed around financial incentive where a consumer pays an additional 10 cents per drink and claim the cost back after recycling, Coke have expressed intentions to go with an alternative scheme, "Thirst for Good". The so-called "Coke way" of recycling is an industry backed proposal, developed by the major beverage companies. It suggests a "$15 million annual investment by the beverage industry in a suite of programs aimed specifically at reducing litter."
While this scheme is proposed industry-wide, the Greenpeace video refers to it as "Coke's plan" and labels the idea as a "joke". SMH reports that Mr Pelle acknowledged the "Thirst for Good" Scheme was put forward by the Australian Food and Grocery Council to represent all industry players, but he says that Greenpeace targeted Coca-Cola Amatil because it is "the main company in Australia and around the world that has led lobbying efforts to ensure cash for container deposit schemes never get up."
"Coke took the Northern Territory government to court over their introduction of a container deposit scheme", says Mr Pelle. He also pointed to The Coca-Cola Company annual report for 2012, which states that beverage container deposits, recycling and eco tax "could affect our costs or require changes in our distribution model, which could reduce our net operating revenues or profitability."
Australian Food and Grocery Council, who are representing the industry scheme, told smh their scheme will have a bigger and faster impact on litter than traditional schemes because it targets "all litter, not just beverage containers."
A spokesperson for Coca-Cola Amatil has told smh, "With almost 40 years' experience operating container deposit schemes in South Australia and the Northern Territory in Australia, Coca-Cola Amatil believes that the litter reduction needs in NSW are different to what South Australia required in the 1970s."
Is it time for Coca-Cola to start getting serious about recycling? Tell us your thoughts.
Comments