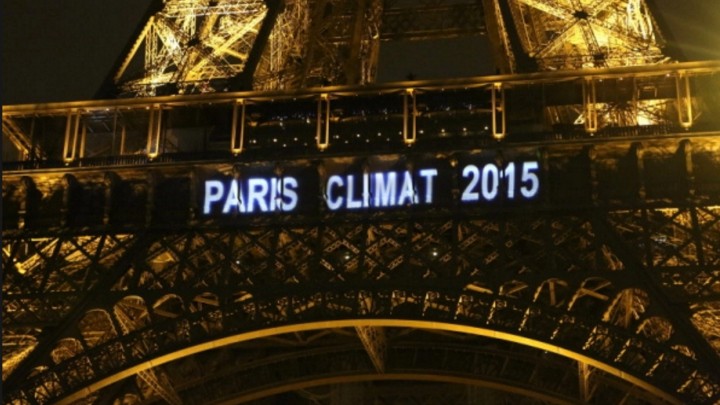 It is a proud moment that we can all hold onto with hope.  The air our great grandchildren breathe might have a chance of being similar to today's thanks to the world leaders who have finally, after 20 years of debate reached a climate change agreement that is worthy of celebration.
The most momentous agreement in the history of the climate change debate has occurred this morning with 200 countries agreeing, if somewhat tenuously, that now is the time to act.  Paris has been the perfect location for more than 20 years of climate change meetings to come to a head and form an agreement  set a new goal of reaching net zero emissions in the second half of the century.  It could be that it signals an end to the use of fossil fuels with the establishment of ambitious goals that holds governments to account for limiting rises in temperatures and hitting emissions targets.  Or, it could be that the world just agreed that we have a problem and we don't quite know how to tackle it yet. For the sake of our grandchildren, I hope it is the former… Do you worry about climate change?
The new treaty just formed has promised to keep temperature rises below two degrees celcius and contain many commitments for how it will be done, however media are already speculating that it is a pretty optimistic outlook.
"To say that Paris will get us to 2°C is cynical posturing at best. It relies on wishful thinking. It's like going on a diet to slim down, but declaring victory after the first salad," said Bjorn Lomborg in The Australian.
The one thing that is not in doubt is that clean energy economy is coming, in a big way, if it wasn't already and it marks an exciting opportunity for us all to have hope that the world we live in can improve on its handling of emissions and environmental issues.
"I see the room, I see the reaction is positive, I hear no objection. The Paris climate accord is adopted."
The French Foriegn Minister, Laurent Fabius used a special leaf-shaped gavel to signify the agreement's formalisation while the audience of world leaders cheered.  "It is a small gavel but I think it can do a great job," Fabius said.
Harry Butler, who the world lost yesterday, a long time Australian environmental change crusader would be happy up in heaven we think.
US president claimed the success American, tweeting just after the accord was  signed…  "This is huge: Almost every country in the world just signed on to the #ParisAgreement on climate change."
This is huge: Almost every country in the world just signed on to the #ParisAgreement on climate change—thanks to American leadership.

— Barack Obama (@BarackObama) December 12, 2015
Our own Julie Bishop made a statement too.
"Our work here is done and now we can return home to implement this historic agreement. This is a pivotal moment," she said.
"No country would see this as the perfect outcome. Certainly it does not include everything that we envisaged. However this agreement does give us a strategy to work over coming years and decade to build the strong and effective action the world needs."
Comments