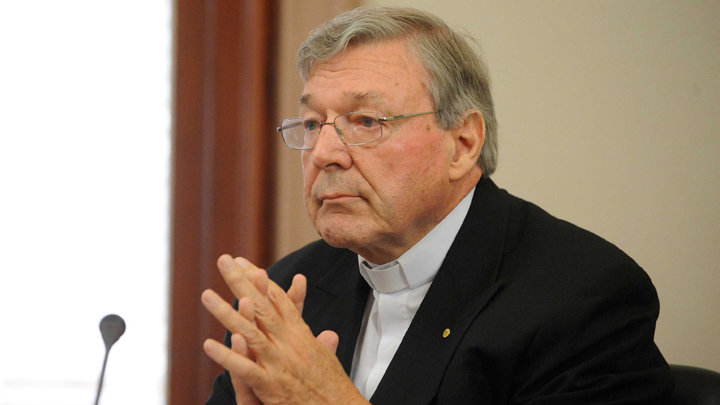 Victims and the public alike have been waiting for Cardinal George Pell to respond to recent allegations as well as the furore over his absence at the royal commission into sexual abuse. Now, Australia's highest Catholic leader has spoken out.
Speaking to the Daily Mail, Cardinal Pell insisted that he would 'of course cooperate' with Victoria Police's new investigation into allegations that he sexually abused between five and ten boys.
He is the subject of a year-long investigation by Victoria Police for the alleged sexual abuse of up to ten minors from 1978 to 2001.
He reiterated that he is "holding up" in spite of the damning allegations and told the Daily Mail "I can't travel on my doctor's advice", in reference to appearing in court to discuss knowledge of sexual abuse in the Church.
The Herald Sun also approached the Cardinal at midnight last night and he said, "Probably not a lot to say until the show is over, I've nothing more to say at this stage,"
When asked if he would now travel to Australia to face his accusers he added: "No, not this weekend for sure."
Asked whether he would ever return home, Cardinal Pell responded: "I don't know."
"I think I have said enough now already on this, I have co-operated".
Perhaps what upsets victims more is that despite an ongoing investigation, Cardinal Pell has continued to deny allegations that he sexually abused minors in Ballarat, and cares more about initiating a public inquiry into how the Herald Sun leaked the story than telling the truth.
Melbourne's Archbishop Hart believes the story's leakage is 'designed to do maximum damage', as the Cardinal's scheduled date for giving evidence to the Royal Commission by video link approaches on February 29.
'The allegations do not reflect the man I have known for more than 50 years,' Archbishop Hart said.
Cardinal Pell said, 'Who knows?' when asked who spread the rumours that the 74-year-old sexually abused minors.
The allegations span four decades, with the Ballarat-born cardinal accused of abusing children — now adults aged in their late 20s to early 50s — between 1978 and 2001.
So far
a campaign to fly abuse victims to Vatican City
 to hear Pell speak about what he knows has raised over $200,000, and Tim Minchin's charity single "Come Home (Cardinal Pell)" is still doing well on the charts.
It's clear this is a story many are passionate about. Where do you stand?
Comments