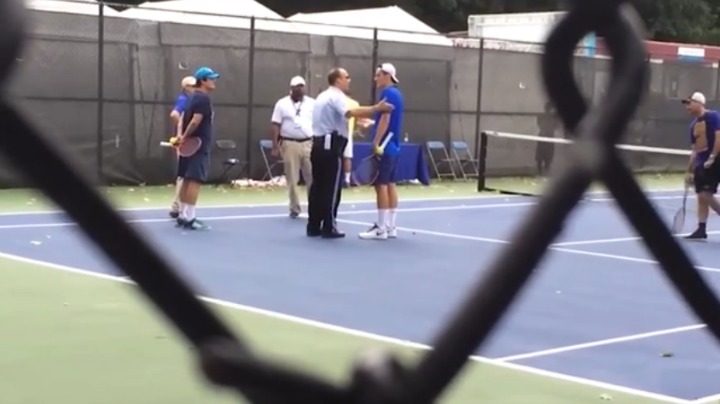 The drama continues for Australian tennis player Bernard Tomic after he was caught on camera arguing with a police officer in America.
Bernard was training with fellow tennis player Serbian Viktor Troicki in Washington when they were told to get off the court by a policeman because of the approaching bad weather.
The video was filmed through the wire fence and shows the officer repeatedly telling the two young men to "knock it off now".
Viktor is seen arguing with the officer before Bernard walks over clearly frustrated at having his practice session interrupted.
Bernard can be heard saying, "excuse me, sir" a few times before the office steps towards him. Bernard backs off only to have the officer move closer, before questioning angrily, "why are you so close to me?".
Both Bernard and Viktor are heard saying they should be able to stay on the court until it actually starts raining, but the officer is having none of it and eventually succeeds in kicking them off.
Exactly why the police were involved in the incident in unclear, but it marks another notch in Bernard's growing list of police encounters.
In 2012 he received fines for three driving infringements in one day while cruising up and down the Gold Coast in his range V8 BMW M3.
Later that year he was involved in an alleged punch-up in a spa at Surfer's Paradise.
In 2013, he finally lost his license after another driving offence and in 2015 he was arrested in Miami, Florida on charges of trespassing and resisting arrest after a late-night party in a $10,000-a-night hotel penthouse.
Take a look at the video of Bernard and Viktor with the police officer in Washington and tell us your thoughts.
Should they have been allowed to stay on and practice? Or does Bernard need to learn to listen to the law?
Comments