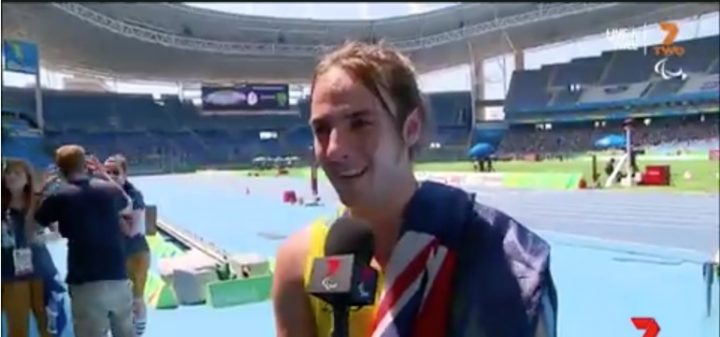 Teenagers Brayden Davidson and Tim Disken have delivered gold for Australia at the Rio Paralympics with victories in track and field, and swimming.
Brayden won the T36 long jump and Tim led home an Australian one-two in the S9 100 metres freestyle at the pool, with countryman Brenden Hall claiming silver.
Tim beat home Brendan 56.23 to 56.95 to win his second medal in Rio. The 19-year-old Melburnian won bronze in the 200m individual medley on Monday (AEST).
"That was an epic race!" You can say that again @TDisken! #Gold #Rio2016 https://t.co/RAxXPDhPuP

— 7TWO (@7TWOAU) September 12, 2016
The 18-year-old Brayden, who has cerebral palsy, leapt a Paralympics record of 5.62m to clinch gold, winning on count-back after Brazilian Rodrigo Parreira da Silva posted the same distance.
Ladies & Gentlemen, your T36 long jump gold medallist @b_bd6! pic.twitter.com/IbGkZI52tE

— AUS Paralympic Team (@AUSParalympics) September 12, 2016
Australia also won silver in the T34 100m at the track through Rheed McCracken, while at the table tennis Sam von Einem finished runner-up in the Class 11 division. Sam went down 3-2 (11-8, 16-18, 11-13, 11-5, 11-8) to Belgium's Florian van Acker in the final. It is Australia's first medal in table tennis at the Paralympics since 1984.
Back-to-back Paralympic silvers for the boy from Bundaberg, @RheedMcCracken. #WeBelieve pic.twitter.com/FUjNdGcUS4

— AUS Paralympic Team (@AUSParalympics) September 12, 2016
Australia's first Paralympic medallist in 32 years, Sam von Einem! #WeBelieve pic.twitter.com/BsGqMF2GDw

— AUS Paralympic Team (@AUSParalympics) September 12, 2016
Brayden dedicated his win to his late grandparents, especially his grandmother who encouraged the Adelaide-based athlete to strive for the Paralympics.
"My nana helped put this dream in my vision when I was six years old," he told Channel Seven.
"She told me 'one day if you keep on training hard you can go to Paralympics' and I've just kept on pushing ever since."
Brayden's triumph was Australia's first gold medal of the track and field program in Rio.
What would you say to these young Aussie athletes?
Comments