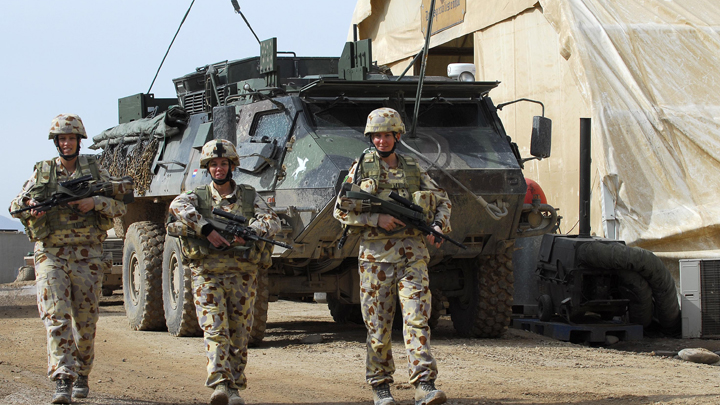 Australian soldiers are being made to eat Halal rations, according to documents published under Freedom of Information that reveal two-thirds of the army's combat rations conform to halal, kosher or vegetarian guidelines to create an "inclusive working environment" for Australia's defence personnel.
Cory Bernardi, a conservative Liberal senator, has come out saying it a disgrace that Muslims in the defence force are dictating what others should be eating.
The internal army document — obtained by a new anti-Islamic political party, the Australian Liberty Alliance — describes how the combat ration packs (CRP) should include a diversity of food and drink.
"CRP should be designed to take account of the broad religious, ethnic, and cultural diversity of the ADF and alliance partners in aspects of food choices and their preparation and consumption," the document reads.
Australia has a multicultural military, and within it there people of varying religions, one of them being Islam.
The less than 100 Muslims in the military need Halal-certified foods, meaning that all foods given to all soldiers also need to adhere to this guideline.
Halal certification has become the source of a lot of confusion and also misinformation in recent years, as some believe it funds terrorism, however this has been debunked numerous times. Having the logo on products means it is safe for consumption by Muslims as they have strict rules on how animals can be treated when making foods they would like to eat.
Halal food has been prepared according to Islamic law, and is free from pork products, alcohol and certain other ingredients.
Senator Bernardi has suggested Muslims in the military be issued with non-halal rations and say their own prayer over the meal before consumption.
"The very idea that someone will not accept food because they're unsure of the origins of it in a desperate wartime environment or war theatre beggars belief," Senator Bernardi said.
"This is just another step in the encroaching Islamisation of Western civilisation and we have an opportunity not to repeat the mistakes of Western Europe, but it takes the will of politicians to make sure those mistakes don't happen here."
Bernard Gaynor, the ALA's Senate candidate in Queensland, said criticised the decision as "politically correct".
"As a result of this decision, taxpayers will be funding a program that forces Aussie Diggers to eat food that has been sacrificed to the god of the enemy".
Former Special Air Service trooper, Paul Jordan, said it's not a problem.
"If there's no great cost attached to it — and I don't think general soldiers would even know the difference when they eat it — then it's OK," he told The Australian.
We want to know your thoughts on this today: Is it a big deal that our diggers are eating Halal certified rations?
Comments