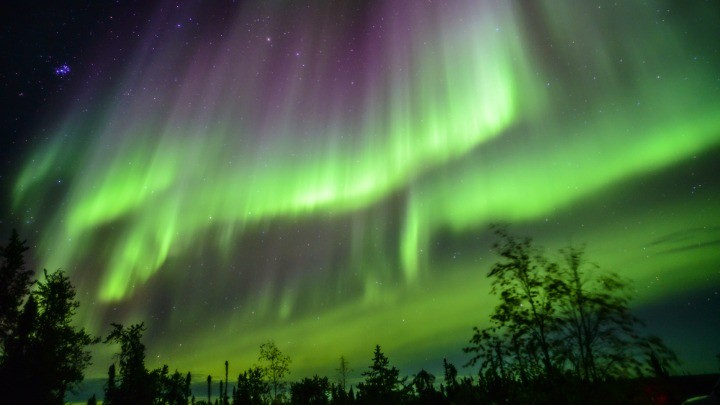 Mother Nature has treated parts of the United Kingdom to a rare and spectacular showing of the Aurora Borealis.
The majestic dancing lights, known as the Northern Lights, have been captured in the skies across England, Ireland Scotland and Wales over the last two days.
The ABC reports that many have taken to social media to share their view as these lights are usually only visible to those in the northern-most parts of Scotland.
Scottish photographer Kevin Ainslie took to Facebook, saying "I am so glad I went out last night as I really don't know if we will ever see such a strong Aurora Borealis in this country in my lifetime."
Others have joked that the lights have appeared specifically for Mother's Day in the UK, making the perfect gift!
These dancing lights occur when charged electrons from the solar wind interact with elements in the Earth's atmosphere.
According to the Northern Lights Centre the most common auroral colours are pale-yellow green, which is result of interaction with oxygen molecules 60 miles above the earth. High altitude oxygen produces a red colour and nitrogen results in blue, or purplish-red.
See the magical photos and video:
A few more beautiful shots of the #AuroraBorealis. Thanks for sharing. Have a pic? https://t.co/SFrN4GaAuG Lan pic.twitter.com/yFPoR6Rh0O

— BBC Weather (@bbcweather) March 7, 2016
Stunning #Auroraborealis display this evening with @dissipateuk #dispersefromsociety pic.twitter.com/KIZF7euuEr

— Cain Scrimgeour (@cainscrimgeour) March 6, 2016
MUST WATCH! Photography by Kris Williams managed to capture this absolutely amazing time-lapse of yesterday's Aurora Borealis in Anglesey. Were you lucky enough to see it? We'd love to see your photos and videos!

Posted by BBC Springwatch on Monday, March 7, 2016
Comments