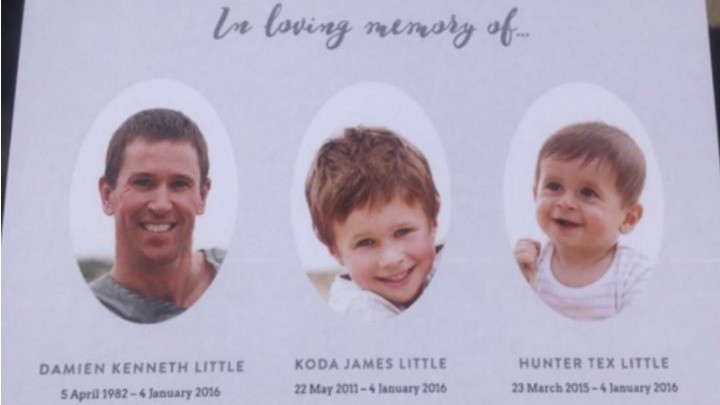 Friends and family of Damien Little, who killed himself and his two sons in Port Lincoln earlier this month, came together today to lay Koda, Hunter and their father to rest in a packed private funeral.
Both sets of grandparents were present along with Damien's four brothers and hundreds of others. Throughout this ordeal, Koda and Hunter's mother Melissa has shown a staggering depth of forgiveness, repeatedly asking that her husband not be condemned for his actions, which were "just not him".
His mother made a similar appeal, saying her son felt he had to be perfect. She said, ""He is our son and we loved him dearly. He was a beautiful kid, loving, caring. We are just broken."
Damien shot his sons, aged four and nine months, and himself before driving their car off the town's wharf. He had been suffering mental illness for up to three years.
Melissa wrote a poem for each of her three lost loves, which she read as part of the service.
Hunter
You passed away, so innocent and true
So brief was your time, I hardly knew.
A baby so sweet, with a precious smile
The time I had with you, was so worthwhile.
You showed your love through cuddles in a special way,
An early arrival for heaven that day. 
Koda
I see your smiling eyes each morning when I wake.
I talk to you and place a kiss upon your lovely face. 
You were so willing, with open arms to embrace. 
With a look of love and laughter written all over your face. 
You were thoughtful and caring, way beyond your years. 
Each moment spent with you will always be held dear.
You should have had so many years to watch your life unfold. 
And in the midst of all of this, watch me, your mum, grow old.
Damien
It broke my heart to lose you
Too soon you were gone.
You never said goodbye
And only God knows why.
Still and quiet here I lay
Trying to cope in my own way.
If love alone could have saved you
You never would have died.
There's now a hole no-one can fill
Within my heart I love you still.
With the boys and their father laid to rest 
Melissa previously released a statement about her childhood sweetheart, saying: "Damien valued and appreciated our close-knit family, he put us first, we were his whole world. He spent every hour providing quality time and teaching the boys how to live and grow," she said.
"My wish is for Damien to be remembered as a well-respected and valued member of our family and our community."
The investigation into the death continues and The Age reports that domestic violence and mental health will be considerations in the report to the coroner.
Join us in sending our condolences to the Little family, to the devastated grandparents of Koda and Hunter, and their incredibly brave mother.
Need help? Call Lifeline 131 114, or beyondblue 1300 224 636
Comments