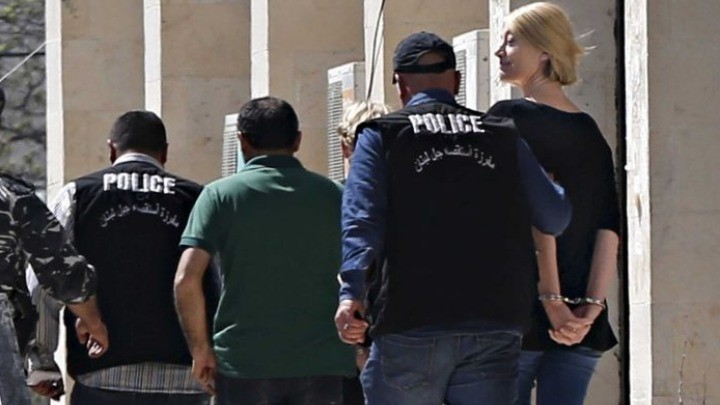 UPDATE!
2:20am April 21, 2016
The 60 Minutes crew arrested in Beirut are set to leave Lebanon and return to Australia. They have been released from custody, along with Brisbane mum, Sally Faulkner.
Benjamin Williamson, David Ballment and Stephen Rice of 60 Minutes were the first to walk free according to Channel 9 reporter Tom Steinfort.
He says the men have "smiles as wide as the Harbour Bridge".
They left in a van and went to the women's prison where Tara Brown and Faulkner were being held.
Faulkner's estranged husband Ali Elamine dropped the charges against them and told the judge he believed the team was "just doing their job".
60 minutes crew boarded flight two hours ago back to Australia. #9News pic.twitter.com/2QniB8ZnsC

— Nine News Australia (@9NewsAUS) April 20, 2016
8:30pm April 20, 2016
Charges against the 60 Minutes crew and Brisbane mother Sally Faulkner, detained in Lebanon on child kidnapping charges, are set to be dropped.
The Australians could be released from custody within hours.
This follows earlier reports of a breakthrough have emerged in the child abduction saga involving a Brisbane mother, Sally Faulkner, and a 60 Minutes television crew including journalist Tara Brown.
5:45pm April 20, 2016
According to Sally Faulkner's lawyer, Ghassan Moghabghab, an agreement has been negotiated between Faulkner and her estranged Labenese husband, Ali Elamine, the father of the two children.
It is claimed that Faulkner will give up custody of the two children in exchange for her release.
However, this deal is what the judge has been waiting for before deciding on the kidnapping charges.
Faulkner's lawyer says the deal should be enough for the charges to be dropped, but the matter won't be finalised until the agreement is signed before the judge.
This is a breaking news story. Starts at 60 will update as news comes to hand.
Is this good news? Have your say.
Comments