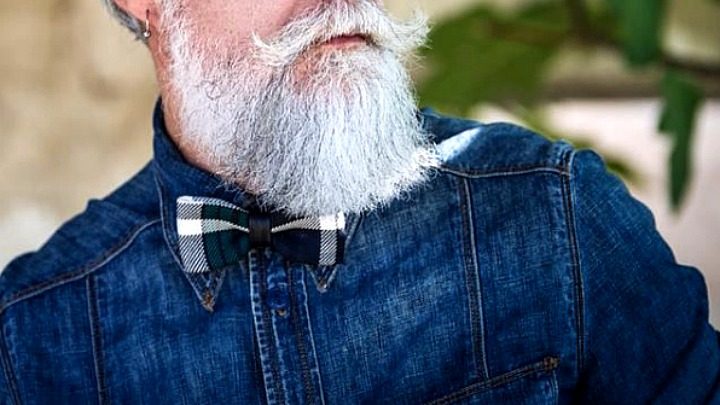 No, apparently, sex appeal does not go way even when your hair turns fifty shades of grey.
Meet Alessandro Manfredini, a silver-haired, tattooed and bearded Italian man with a sharp eye for style. He's not quite sixty but he is showing fashion bloggers and fashion brands that grey hair can be extremely attractive. Younger men, half his age are following him on Instagram to get style tips and to learn how to dress better. Apparently, there is a lot to learn from this experienced man.
Before he became the face of various print ads, Alessandro was actually a graphic designer and a sculptor.
Although people have described his beard as "majestic", his facial hair signifies something more meaningful to him. Just a couple of months after he moved into a new house in the Emilia Romagna district, a terrible earthquake devastated the area and like many other people, he lost his new built house and became homeless. However, "He promptly reacted trying to find a way to escape this black nightmare; and he did it the Italian way with passion and creativity trying to reinvent himself: he grew moustache and beard," said GWD.
Alessandro has more than 187,000 followers on Instagram which features a lot of style shots like these…
Alessandro is not the only silver fox in town, in fact he faces stiff competition from Nick Wooster, also known as 'the alpha male of American street style'.
Nick Wooster is just a few years shy of turning sixty but this retailer-turned-fashion-advisor has certainly wowed fans all over with his style.
To prove how much fashion world loves him, Vogue called him the "Obi-Wan Kenobi of men's street style" in one of their features and Nick was also photographed by one of the world's top photographers, Ined and Vidnood for Vanity Fair.
He makes cardigans look so stylish…
But for Nick Wooster, style isn't something new; in fact, he's had an eye for fashion since he was five. These days, he can be seen wearing his signature look – tailored jackets, handlebar moustache and his colourful tattoo sleeves.
Do you think granddads need to step up their style game?
Comments