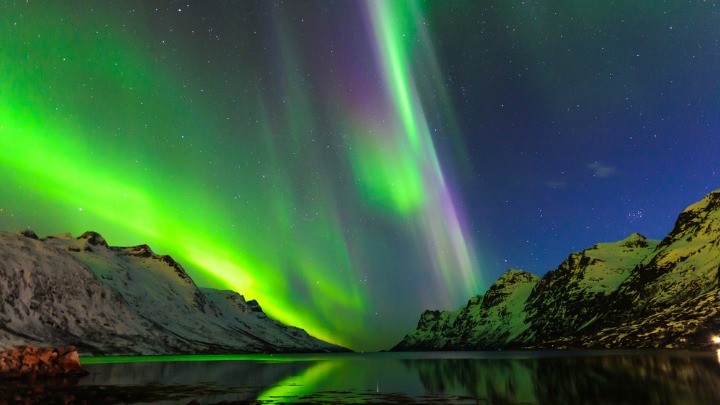 It's one of those magical phenomenons that some of us are lucky enough to witness just once in a lifetime, if at all. The sky lights up with colours of green, blue and pink when electrically-charged particles from the sun enter the earth's atmosphere. They're known as the Northern Lights, or Aurora Borealis, and people spend much of their lives chasing them across the planet. But where are some of the best places around the world to see the Northern Lights? Here are just a few to pop on your bucket list.
Read more: There's never been a better time to discover Canada or Alaska
1. Tromsø, Norway
The town of Tromsø in Norway has got to be one of the best places in the world to see Aurora Borealis activity. Not only because of the northerly location, but also because of the long timespan that they're visible. You're likely to catch a glimpse of the Northern Lights in Norway between October and March.
2. Lapland, Finland
More than 160,000 tourists venture to Lapland in Finland each year to get a look of the Northern Lights. Markku Inkila, an Aurora photographer and guide, says that there is a a 90 per cent success rate of seeing the Aurora Borealis here. So, pack your bags and get a move on.
3. Þingvellir National Park, Iceland
If there are clear and dark skies in Reyjavik then you can be sure that there're going to be bright green skies in Þingvellir National Park. Be sure to get your camera and tripod out quick though, because the light display can sometimes last only 10 minutes.
Read more: Seven tips for planning your end-of-year holiday… now!
4. Northern territories, Canada
Yukon territory in northern Canada is one of the greater spots to set up camp and gaze at the Northern Lights in Canada. You can spot the lights even as far as the United States border, but you're going to get a much better view in Canada so stay put.
5. Edinburgh, Scotland
It might come as quite a surprise but there are great views of the Northern Lights in Scotland. Once you've been to the pub and had your haggis for dinner, head out to Edinburgh, Fife, or the most northerly tip of Skye, which are some of the best places to spot them.
Have you seen the Northern Lights up close? Where in the world did you go to see them? Let us know in the comments section.
Comments